A Year of Building Torah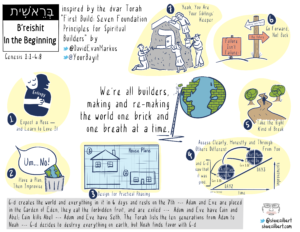 A Year of Building Torah is a volume of parshanut (Torah commentary) accompanied by #VisualTorah, mined from the first year of Builders Blog. The volume features a variety of voices (both clergy and lay) from across and beyond the denominations, and each essay is accompanied and uplifted by Steve Silbert's #VisualTorah sketchnotes.
Built on the foundation of Bayit's animating principle — that the Jewish future is always under construction and that all of us are tasked with building that future — the essays in A Year of Building Torah explore Torah through a building-focused lens. What does Torah teach us about building the Jewish future wisely and well? What tools do we inherit from Jewish tradition that can help us build? How can we skillfully build on history's foundations to meet the spiritual needs of today and tomorrow? This volume contains a year's worth of answers to these questions and more.
Contributors to the volume include Rabba Wendy Amsellem, Rabbi Rachel Barenblat, Rabbi Bella Bogart, Steven Green, Rabbi Cynthia J. Hoffman, Rabbi Evan J. Krame, Rabbi David Markus, Rabbi Mike Moskowitz, Rabbi Ben Newman, Shoshanna Schechter, Rabbi Alana Suskin, Steve Silbert, and Rabbi Jennifer Singer.