Life Lessons from Recently Dead Rabbis:
Hassidut for the People
Rabbi Mark Asher Goodman
Some of the great secrets to living a purposeful and soulful life have remained hidden from the broader world – tucked away in the repositories of the saints and holy people of a given wisdom tradition, accessible to only those in the right community or with certain language skills. And then every so often, somebody comes along and realizes that the thoughts and ideas of that obscure language and quiet community ought to be brought into the light and shared with the broader world, but in a way that is accessible for the common person and the present moment.
This is a book of Hassidic texts with contemporary commentary, meant for anybody who is seeking a little spiritual and moral guidance. The great Hassidic masters believed that all human beings were brought into the universe with purpose, and that a worthwhile life involves analyzing and reflecting on that purpose. The purpose of this book is to bring out these life lessons for the next generation – an independent and bold generation that is more diverse, more feminist, more queer, more individualistic, and perhaps more reflective than ever before.
Cover art by R. Zac Kamenetz.
Praise
"The book is distinctly Goodman-esque, with Talmudic readings from Hasidic masters set alongside lyrics from rappers the Wu-Tang Clan…"  — "A New Take on Old Wisdom," Pittsburgh Jewish Chronicle
Advance Praise
Rabbi Mark Asher Goodman has given us a tremendous gift: not only powerful, life-changing wisdom — much of it in English for the first time — but also an accessible, thoughtful guide into that wisdom, with insightful commentary that links the depths of Hasidic Torah to our lives and challenges today. Life Lessons from Recently Dead Rabbis is a must-have for spiritual seekers of all backgrounds.

— Rabbi Danya Ruttenberg, author of On Repentance and Repair and Surprised By God
The Rabbis and Rebbes never died! Through the teachings of Rabbi Goodman they continue to live in our midst and help us reveal our way "Home." This book is an invitation to "reveal the Divine in our soul," a companion in "Returning to the Divine [as] the process of escaping from a cycle."
Now you too can partner with Rabbi Goodman on this journey, with and towards healing relationship with God and the world. There are blessed questions and quests awaiting you on every page. This book will guide you as you embrace the trek of your life.
— Rabbi Dr. Mimi Feigelson, senior lecturer in rabbinics and Hassidic thought at the Schechter Rabbinical Seminary in Jerusalem
Earnest, thoughtful, and irreverent in the very best of ways: this volume opens up Hasidic wisdom for the modern reader in essays (keyed to character development and the weekly Torah portion) that will surely uplift and inspire.
— Rabbi Rachel Barenblat, "The Velveteen Rabbi," author of Texts to the Holy and Crossing the Sea
About the Author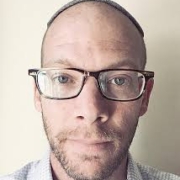 Rabbi Mark Asher Goodman (he/him) has served as spiritual leader for Brith Sholom Jewish Center of Erie, PA since 2018, and lives and teaches in Pittsburgh, PA. He has been a Jewish educator for over 20 years, for folks ages 10 to 93. He likes texts from the Hassidic tradition in particular because they probe our own personal stories and struggles by using Torah as a vehicle for self-examination. He is Congregation Beth Shalom's instructor for Introduction to Judaism, and sponsors and mentors many people who are on a path toward becoming Jewish. Rabbi Mark is a big soccer fan, a competent skier and harmonica player, and an accredited archery instructor. He has one misdemeanor conviction for political protest, and a turtle named Lefty. Learn more at his website.

At Bayit we create and curate tools for "building Jewish." If you want to support our work, including this volume, we welcome your donations!