Renew Our Hearts:
A Siddur for Shabbat Day
Available in hardcover or paperback, standard size or large print.

25% bulk discount on orders of 10 or more in the US.
Want to glimpse the inside of the book and learn more about how it came about and how one might use it?
Here's a blog post at Builders Blog: Renew Our Hearts is here!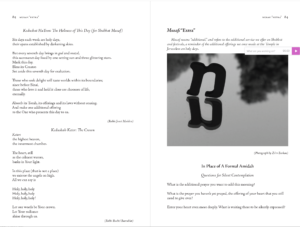 And here's a thumbnail glimpse of one two-page spread. Click through to the blog post to see / read more.
Renew Our Hearts: A Siddur for Shabbat Day is is our second joint liturgical publishing project with Ben Yehuda Press after Beside Still Waters (released spring 2019).
Renew Our Hearts contains liturgy for Shabbat morning (including shacharit / morning worship as well as a renewing approach to musaf / Shabbat's "additional" service), Shabbat afternoon (mincha), and Saturday evening (ma'ariv / the evening service and havdalah / the prayers that bring Shabbat to its close.)
(Why not Kabbalat Shabbat? Because there are already some great Friday night siddurim out there, like the Romemu Kabbalat Shabbat siddur. We wanted to do something a little different — for the full daytime of Shabbat, from morning until ma'ariv on Saturday night.)
Like Beside Still Waters, Renew Our Hearts balances tradition with innovation. In this volume you'll find the words of the classical prayers in the matbea tefilah (the traditional order of prayer), as well as contemplative variations and abbreviated chants for those who prefer to go deeper into fewer words. Alongside the classical prayers you'll also find contemporary poetry arising out of the themes of the liturgy, visual art and photography designed to open the heart and stir the soul, and new prayers composed to bring the tradition's themes and imagery to life. In service of maximum accessibility, every word of Hebrew is paired with transliteration and with clear, pray-able English translation.
Renew Our Hearts is designed for use in homes, in congregations and independent minyanim, on Shabbat hikes, in contemplative Shabbat settings: wherever you experience the rhythms of Shabbat day, from morning until night.
Renew Our Hearts includes work by Trisha Arlin, Rabbi Rachel Barenblat, Ze'ev Barkan, Rabbi Leila Gal Berner, Rabbi Daniel Brenner, Rabbi Lewis John Eron, Rabbi Shir Yaakov Feit, Rabbi Lev Friedman, Jonathan Gibbs, Rabbi Jill Hammer, Rabbi Burt Jacobson, Rabbi Laura Duhan Kaplan, Rabba Kaya Stern-Kaufman, Rabbi Evan Krame, Rabbi Janet Madden, Rabbi David Markus, Mark Nazimova, Rabbi Zalman Schachter-Shalomi z"l, Susan R. Schorr, Kohenet Taya Shere, Rabbi Jennifer Singer, Donna Tukel, Rabbi Shohama Harris Wiener, and Rabbi David Zaslow.
$18-36 (regular or large print). Available now on the Ben Yehuda website! 
At Bayit we create and curate tools for "building Jewish." If you want to support our work, including this volume, we welcome your donations!