Entering the Psalms – For Clergy
The psalms give voice to a range of human emotions, from despair to exultation. In this class for clergy, we'll study psalms (both classical / Biblical, and contemporary poems that function in similar ways) and then open our creative channels to write our own. Both the reading and the writing will enliven our relationship with text, tradition, ourselves, and our Source, and will give us tools for building a more robust relationship with the psalms and with our own creativity.
In each session, we'll study select psalms and poems together, delve into writing exercises, and enter into a safe space for creativity as we write. We'll share work (in dyads or as a whole group) and offer feedback. Throughout, we'll seek to attune ourselves to the inner dynamics of heart and spirit, exploring how our continuing spiritual formation is being impacted by our spiritual service during this time of pandemic.
The class will meet over Zoom for five sessions of 90 minutes apiece. We will focus each week on a different facet of the psalms and our inner lives: gratitude, awareness, teshuvah / repentance, grief and anxiety, and wholeness.
There is no required reading before the class, and we'll provide all class materials as PDF files or google docs.
Tuition: $180
We'll meet on the following dates (from 1:15-2:45pm ET):
Oct 23
Oct 30
Nov 6
Nov 13
Nov 20
About the instructor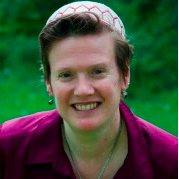 Rabbi Rachel Barenblat holds an MFA in Writing and Literature, as well as a secondary ordination as a mashpi'ah ruchanit / spiritual director. She brings both her spiritual direction training and background in teaching creative writing to this work, and has offered classes in this vein via the ALEPH Kallah, the National Havurah Institute, and the Academy for Spiritual Formation. Author of several volumes of poetry (among them Texts to the Holy and 70 faces: Torah poems) and editor of the recent shiva volume Beside Sill Waters, since 2003 she has blogged as the Velveteen Rabbi. A co-founder of Bayit: Building Jewish, she serves as spiritual leader of Congregation Beth Israel in North Adams, MA.
Register – Please note that registration is now CLOSED for this class