First Innovation Retreat: February 2019
In February 2019 Bayit sponsored a first rabbinic retreat on the theme of innovation. Via our fiscal sponsor The Jewish Studio we received seed grants from the Eleanor M. and Herbert D. Katz Family Foundation to support an innovation-themed retreat, held at Pearlstone Retreat Center. We convened a planning group of seven clergy: Rabbi Debbie Bravo (URJ), Rabbi Jonathan Freirich (URJ), Rabbi Heidi Hoover (AJR-NY), Rabbi Alana Suskin (JTS and Yeshivat Maharat), and three Bayit board members.We planned retreat programming to weave contributions from inside and outside the Planning Group, from clergy and lay leaders, from traditionally observant participants and from more liberal contexts.  Sessions included:
The retreat developed and integrated three areas of Jewish innovation – text, ritual, and representation – with focus on skill-building.
For more on our first innovation retreat:
Second retreat: February 2020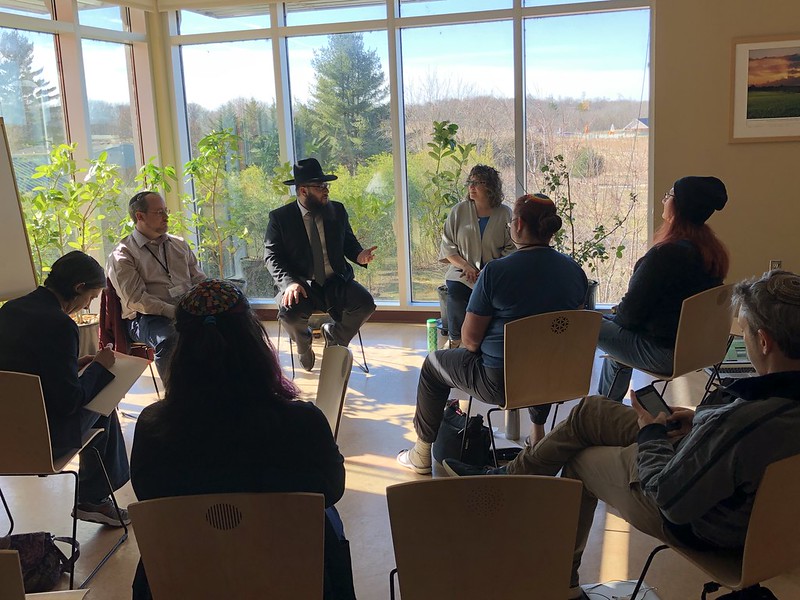 Our second retreat also carried forward the theme of innovation. Our theme was Being the Change: innovation and change agents in a complex world. Once again the retreat was planned in a consciously trans-denominational way. Sessions included:
Design Thought for Clergy: Spiritualizing Systems & Process


Steve Silbert

• Reform • Entrepreneur & Director,

Visual Torah Project

Text Study: Mussar and Halakhic Process 
R. Jeff Fox

• Orthodox •

Rosh Yeshiva, Yeshivat Maharat
Understanding and Teaching Gen Z
Shoshanna Schechter

•

Conservative

•

 Charles E. Smith
Becoming the Change: Panel Discussion
R. Debbie Bravo 

• Reform • 

Makom NY, with R. Jeff Fox and R. Mike Moskowitz
MenschUp Project Sandbox: Design & Stakeholder Canvass
R. Mike Moskowitz and R. David Markus, with everyone
Over the course of our time together we refined tools in prayer, pedagogy, entrepreneurship, social justice, and personal spiritual practice.
For more on our second innovation retreat: