God Who Forms Their Hearts As One
A CLASS FOR BLACK CHRISTIAN CLERGY AND FOR JEWISH CLERGY OF ALL RACES
This six part series invites us to engage in a process of self-reflection, historical understanding, and dialogue to investigate the role of race among Jews and Blacks in America, and to help us move beyond platitudes to reconciliation. Each 90-minute session uses pedagogical techniques to explore biases and utilizes Jewish and Christian texts to build a common understanding and create a path forward. Each session also introduces tools for participants to bring these lessons back to their own communities.
The first session is a text-based introduction to themes of human unity and disunity, and how those texts were historically used and abused. In the second session, we offer a basic introduction to structural racism, and discuss how systems of oppression work and how they trap well-meaning individuals into serving their ends. The third and fourth sessions focus on specific "-isms", how the Black and Jewish communities have gone astray in their relationships with one another, and how we can get back on the path of unity.  Session five explores what race is and is not, and how the Black and Jewish communities understand themselves and one another. The final session asks, "How is your life going to change when these systems change?" and what can your role be in making that happen. We discuss Jewish and Christian texts dealing with deconstruction and reconstruction.
Although each session is relatively self-encapsulated, we do build from session to session and ask that participants commit to all six sessions. 
(Class title drawn from Psalm 33:15.)
Dates and class size
This class will be offered over Zoom from 7-8:30pm ET on Mondays 2/8, 2/15, 2/22, 3/1, 3/8, 3/15.
The class will run with a minimum of 10 participants and a maximum of 26 participants. (If we don't get ten participants, we will refund tuition; once we reach 26 participants, we will close registration and will take a list of names of folks interested in a possible second iteration of the class later in the year.)
About the Instructors
This class is taught by Rabbi Alana Suskin and the Minister Cornell Jenkins.
Minister Cornell Jenkins was licensed to preach in the African Methodist Episcopal Church in 2002.  He has a heart for people and is a teacher and facilitator.  He earned a B.A. in Human Resources Management from the University of Maryland University College and a Master's of Theological Studies with a focus on racial reconciliation from Wesley Theological Seminary.  He is a member of the Association for Talent Development.  Minister Jenkins is committed to equipping and educating people to build bridges between races and religions.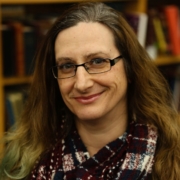 Rabbi Alana Suskin is an educator, activist, and writer. She was ordained in 2020 by Yeshivat Maharat, the Orthodox rabbinical seminary for women, and also holds BAs in Philosophy and Russian, an MA in Philosophy, a graduate certificate in Women's Studies, and an MA in rabbinic studies and previous ordination as a Conservative rabbi from the Ziegler School in California. She is senior editor of the progressive blog Jewschool.com. Rabbi Suskin has served on the boards of T'ruah, Jews United for Justice, and Interfaith Conference of Metropolitan Washington and is a founding fellow of CLAL's project, Rabbis Without Borders. Rabbi Suskin is co-founder and co-director, with her colleague and friend Hamza Khan, of The Pomegranate Initiative, a non-profit fighting anti-Semitism and Islamophobia through education and relationship-building.
Registration