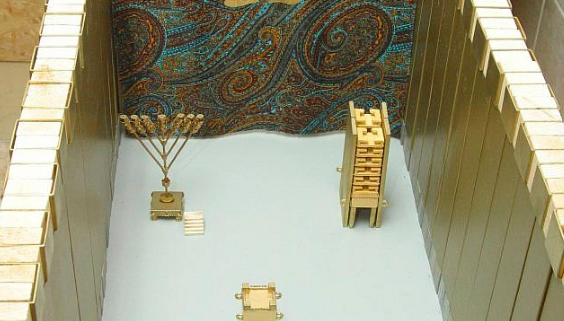 Reprinted from The Times of Israel.
As we read these parshiyot (Torah portions) about creating a mishkan, a sacred space for God, it's a fair question to ask what the value of sacred spaces is, and whether we need them at all. After all, shouldn't we serve God anywhere and everywhere? I believe that Rav Soloveitchik addresses this issue in an article entitled, "Sacred and Profane: Kodesh and Hol in World Perspectives." In this article, he describes the concept of Kedushat makom, what he calls "place consciousness." He asks, "In what ways is the settler who has his own place superior to the nomad who has none of his own?" He explains that the nomad does not desire to till the soil and cultivate the land because he will move from place to place and therefore does not feel a symbiotic relationship between the land and himself. The nomad has no place consciousness. The settler, however, desires to till the soil and cultivate the land. He is attached to the land. He lives in a symbiotic relationship with his land. He loves it and merges into it. The settler has place consciousness. This is true in the spiritual realm, as well. The idea of "makom," as applied to God, means that He is not only transcendent, but He is also our immediate companion. Rav Soloveitchik asserts that we meet God through experience and intuition. Kedushat makom means that we are especially in tune with our spiritual identity, with God, in a particular place, and that is why sacred spaces are so necessary. Sacred spaces create opportunities to feel intensely close with our very essence and our very identity.
That is also why sacred spaces can be very challenging. Three different Jews walk into a shul – and it's not a joke – three different Jews walk into one sacred space, each with different expectations and needs. And in 2019, the expectations of many have changed in particular ways. Whereas prior generations looked to centralized spiritual institutions as holding the keys to spiritual growth, younger congregants on the whole have been expressing different expectations. Often, those of us in communal positions hear, "I want my own personalized approach to spirituality. You need to tailor make religion so that I feel comfortable. I will not automatically become a member of your institution unless it speaks to me personally." Then our sacred spaces become tricky because we all expect them to become tailor-made for each one of us. I view my sacred space primarily as a space of passionate, heartfelt prayer. You want your sacred space as a space where all Jews, regardless of background and observance, feel like a family. He wants his sacred space as a space where we passionately advocate for the State of Israel. She wants her sacred space as a place of serious Torah study. And if we're not satisfied that our sacred space reflects our personal religious identity, then we will start our own shteibel, hence the shteibelization of orthodoxy.
To me, then, a large sacred space like a shul will only be successful in 2019 if its membership supports each other's legitimate spiritual motivations even if they do not all personally speak to each of us. Even if I am not someone who gets excited about chesed projects (i.e., acts of kindness), I will still support my shul in its chesed endeavors. I will understand that for members who are passionate about chesed, having those programs helps bind them to our shul and make it their "makom," their source of spirituality. And if despite working on my davening it's still not doing much for me, I will still come on time to minyan and I will try as best as I can to stay in shul and focus because I want to support those who are so passionate about their shul being a place of heartfelt prayer. Though not every initiative of my shul may speak to me personally, I recognize that they may be how my fellow congregants make our shul their "makom," and I want to support them.
Our shuls are strengthened when our membership looks around and realizes that different people identify with this sacred space in different ways, and each one of us searches for ways to help support each other's Divine vision for their sacred space. Let us each fulfill the commandment of "v'asu li mikdash…" by building our sacred space in a way that allows everyone in the community to realize his or her own dream of a kedushat makom, of place consciousness. If we do this, it is my hope that we will merit the blessing at the end of the verse, "…v'shachanti b'tocham." May God's Divine presence dwell inside our sacred spaces, and inside each one of us.
Jonathan Muskat is the Rabbi of the Young Israel of Oceanside.
This article originally appeared at the Times of Israel.
https://yourbayit.org/wp-content/uploads/2019/02/mishkan.png
358
564
David Markus
https://yourbayit.org/wp-content/uploads/2019/05/bayit-logo-fullcolor.png
David Markus
2019-02-13 16:03:16
2019-06-06 23:30:42
Creating Sacred Spaces