Part of a year-long Torah series on graceful masculinity and Jewish values.
 וַיָּבֹא יַעֲקֹב שָׁלֵם עִיר שְׁכֶם, אֲשֶׁר בְּאֶרֶץ כְּנַעַן, בְּבֹאוֹ, מִפַּדַּן אֲרָם; וַיִּחַן, אֶת-פְּנֵי הָעִיר.

And Jacob came in peace to the city of Shechem, which is in the land of Canaan, when he came from Paddan-aram; and encamped before the city. (Genesis 33:18)
"Don't just do something, stand there." The White Rabbit in Alice in Wonderland understands that human beings have a very hard time just being. Often it is easier to pursue the future and be distracted from the moment than to be fully in the present. But it's important for us to "just be" sometimes. When we are only thinking about what is next, our ability to actually improve ourselves is diminished.
Every week, Shabbos invites us to pivot from a weekday posture of creative production to one of graceful existence. (From "doing something" to "just being.") The medresh teaches that Jacob came to the city of Shechem on erev Shabbos, and prepared for the day of rest. The Sefas Emes (Rabbi Yehuda Leib Alter of Ger) understands the word "ויחן", in the context of this verse, not just as he encamped, but also that Jacob restored grace,  חן, to the land.
Sefer Yetzirah teaches that G-d connects the letter ת with both חן (grace) and Shabbos. As a result, Shabbos is inherently connected with grace. Shabbos supports our acquisition of gracefulness by giving us the opportunity to reflect on what we have and to be satisfied with what we have. Just as G-d rested on the Shabbos from creating, and appreciated what had been made, so too does Shabbos provide a weekly reminder to cease pursuing the physical and instead to elevate it to the level of spirituality. 
The brothers Jacob and Esav offer two different ways of relating to "what we have" and "enoughness." When Jacob is on his way to meet Esav, he attempts to make amends with his brother by sending him many gifts. Esav rejects the offering, saying, ""I have plenty," which Rashi understands as an arrogant boast of accomplishment. By contrast, Jacob says of himself, "I have all (כל)," which Rashi interprets to mean that he has enough. 
Jacob tells Esav  כִּי-חַנַּנִי אֱלֹקים וְכִי יֶשׁ-לִי-כֹל / "G-d has been gracious to me and therefore I have all that I need." (Genesis 33:11) He means "I have found the G-dly type of grace, not a superficial one." Jacob not only wants to give Esav physical gifts: he wants to give Esav the spiritual gift of his worldview, the spiritual gift of knowing that what one has is enough.
Esav comes with 400 men, a representation of the force of "רע עין," a negative outlook of the world.  Jacob lives for 147 years, which is the numerical value of "עין טוב", a positive outlook on the world. The numerical value of "יש לי כל", I have enough, is 400, the same as the letter "ת" which as we explained, is connected to Shabbos and to חן / grace. Jacob was modeling for his brother a practice of being satisfied with what one has, and not being distracted by the superficial pleasure of being seen as successful through excess. This reflects a real internal חן / grace. 1
וַיָּבֹא יַעֲקֹב שָׁלֵם Jacob came shalem, in peace.  שָׁלֵם (Shalem) can also mean complete or full. Jacob came on Erev Shabbos, a time of completion. We conclude the physical work before Shabbos so that we can be free to invest in the spiritual "work" of Shabbos.2 Shabbos's name is shalom. Part of achieving graceful living is appreciating what we have, existing in Jacob's state of יש לי כל. For the moment we know that we have all we need. 
Discussion questions:
Why does society look at physical wealth as such an indicator of success?
Spiritual ambitions can also be toxic. How can we evaluate if our ambitions are holy?
How can we be more conscious of our presence?
Does being with other people make that easier?
---
1. חיצון = חן יופי↩
2. עיין אמרי אמת תר"צ "בשבת אדם משלים עצמו"↩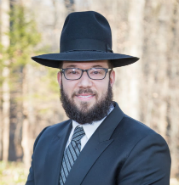 By Rabbi Mike Moskowitz.  See other #MenschUp posts here.
https://yourbayit.org/wp-content/uploads/2019/12/25-Lessons-Daily-Mindfulness-Meditation-2.jpg
800
1600
Rachel Barenblat
https://yourbayit.org/wp-content/uploads/2019/05/bayit-logo-fullcolor.png
Rachel Barenblat
2019-12-11 19:08:09
2019-12-11 19:08:09
Becoming a Better Being / Graceful Masculinity: Vayishlach