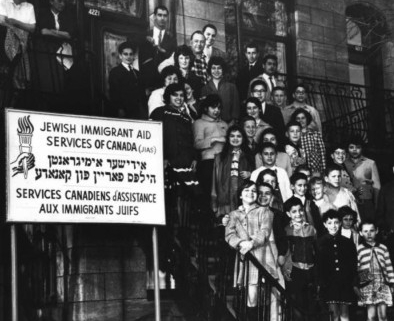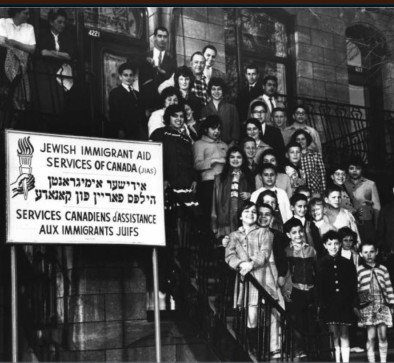 Part of an ongoing series that explores Torah through an ethic of social justice and building a world worthy of the Divine.
Image source: 100 Year Anniversary – JIAS – Jewish Immigrant Aid Services (jiastoronto.org)
The other week, in a first team meeting of 2023 on zoom, a colleague asked each participant to share one word to sum up 2022 – followed of course by one word capturing our hopes for 2023.  We were all to type our word into the "chat function" and enter our responses at the same time.  Responses included success, growth and busy.  Also war, and my own dejected response: upsetting.
This all happened in a matter of seconds so I don't want to place too much weight on this activity, but it's worth noting that as part of the Ukraine Response Team at JIAS Toronto, I have had the opportunity to do incredibly impactful, rewarding work this past year.  I have been moved by colleagues and volunteers throughout our community going above and beyond to support people in crisis.  I have seen first-hand that we can, individually and collectively, make a difference.  And yet, the first word that came to mind was upsetting.  Not exactly inspired. 
I share this knowing that many are finding it hard to see the light in our world, or at least to keep it in focus, when there is a great deal of darkness that has often felt like it is closing in on us these last few years.  We made it through the pandemic – but many didn't… and is it even behind us?  As we follow news of fires, floods and famine, the now-famous Climate Clock tells us that time is running out.  And in preparation for the 5th annual HIAS/JIAS Refugee Shabbat, we learn that the number of people forcibly displaced worldwide has surpassed 100 million, including over 35 million refugees fleeing violence, war, and persecution. It all feels rather daunting.
Refugee Shabbat is an opportunity for individuals, organizations, and congregations around the world to dedicate a shabbat experience to refugees and displaced people.  As Jews, we are commanded to "love the stranger" – and we also have the lived experience of having been strangers in a strange land, even in countries where we felt at home and part of society.  Moreover, in the last century, hundreds of thousands of Jewish refugees sought resettlement from pre- and post-war Germany and Poland, from Morocco, and Soviet Bloc countries – among others.  We know what it means to be denied safe haven, and we know that we must do better for today's refugees.  At the same time, the enormity of this ever-worsening crisis can feel paralyzing.  Do our efforts really make a difference? 
I sought and found guidance and inspiration in the parasha for this upcoming Refugee Shabbat, Beshalach – and specifically, from the midrash of Nachshon.  We all know the story of the parting of the Reed/Red Sea, more or less: B'nai Israel flee Egypt and make their way to freedom only to encounter a sea that blocks their way.  They are understandably distressed and cry out to Moshe, as the Egyptians advance upon them and they appear to be trapped between the sea and their captors.  Moshe tells B'nai Israel that God will deliver them, God then tells Moshe to tell B'nai Israel to move forward, and to hold his arm over the sea – and when he does this, G-d miraculously parts the waters, enabling B'nai Israel to walk "b'toch hayam b'yabasha" in the sea yet on dry ground, and cross to safety on the other side of the seabed. 
The Midrash of Nachshon fills in some of the details of this story (if you have 4 minutes, you can watch this simple and fun retelling by Bimbam), telling us that at first when Moshe raised his hand, nothing happened – causing further panic among B'nai Israel.  Then, amidst the panic and chaos, a man named Nachshon, who was a leader of the Tribe of Judah, stepped into the water.  Without hesitation, he walked forward as the water covered his knees, then his waist, his chest and his.  As the water rose above his nose, the sea split and B'nai Israel were able to follow him to safety and liberation.  An additional midrash suggests that only once B'nai Israel followed Nachshon into the water did the seas part.
In his commentary on this midrash, Rabbi Adam Greenwald writes that "our rabbis read this story into the Torah to teach us that liberation comes only to the courageous. Nachshon's gift was the ability not only to see the possibility of the moment, but to believe in it strongly enough to be willing to risk wading into the water." 
Indeed, this midrash teaches that we must take risks and act boldly even when we cannot be certain of the result.  When the odds seem as though they are stacked against us, when it seems like things can only get worse – that is precisely when we must find the strength to act and try to effectuate change. 
When I think of refugees, I imagine how brave they must be to undertake and endure their journey (often with families in tow) without knowing what lies before them.  Like Nachshon, they risk everything in the hope of a better future. 
As a people descended from Nachshon and generations of Jews who have taken risks for the sake of our future, we cannot allow ourselves to be overwhelmed by the enormity of today's refugee crisis.  We must do what we can – even when it feels like just a drop in an overwhelmingly enormous bucket – to advocate for refugees, to support their resettlement, and to welcome them to our country and community.   
This past year, JIAS has worked with community partners to sponsor and resettle over 230 vulnerable Afghan refugees and 70 others from around the world.  JIAS has also helped meet the urgent needs and provided ongoing support for over 750 Ukrainians fleeing war.  As part of the JIAS team, I have seen our volunteer corps increase exponentially in response to these crises and have been moved by the tremendous generosity and acts of kindness shown by those in a position to help.
And yet, the word I came up with yesterday to sum up this last year was upsetting.  Because the wars and conflicts persist and multiply.  Because just three years ago that impossibly huge UNHCR statistic of people forcibly displaced was 70 million – and that seemed too great to comprehend.  And now, just 3 years later, it's over 100 million.  It is upsetting.
But the Talmud/Midrash is full of wisdom. It teaches us about Nachshon, who has the courage and audacity to wade into unknown waters. It also teaches us that "to save a life is to save the world." Every individual whom we can help find safety, security, and a better future signifies possibility and hope for refugees around the world.
And so, if I could have a do-over, I would not choose upsetting, which denotes discouragement and even destruction.  I might go with challenging, as this world presents us with endless challenges, testing our abilities and demanding us to act. 
This Refugee Shabbat and this year, join me in reaffirming our community's commitment to supporting the resettlement of refugees and learn how each of us can make a difference.  Let's celebrate the tremendous work being done already and commit to taking actions – big and small – to help save and change lives.  Let's advocate, donate, volunteer, and open ourselves up to newcomers in our midst.  Let's also celebrate the bravery and courage of refugees, and recognize their contributions (past, present, future) to our communities and countries. And let's follow their example, and that of Nachshon, to be courageous, audacious, and lead boldly towards a better future.
Jodi Block is the Manager of Community Engagement at JIAS Toronto. She has been at JIAS Toronto for almost 20 years and has held various positions to fulfill the agency's mission of welcoming, supporting, and integrating newcomers to Canada to build a vibrant Jewish community and a strong, diverse Canada. This is her first post for Builders Blog.
JIAS was established in 1922 to assist Jewish refugees coming to Canada. Today, JIAS Toronto is the only Jewish social service agency in Canada solely dedicated to providing settlement services to immigrants and refugees. JIAS is inclusive, LGBTQ+ friendly, and proud to serve all newcomers regardless of faith or country of origin. JIAS has a diverse staff and offers settlement services in a variety of languages.
You can register for Refugee Shabbat here.  You can also sign up for the JIAS newsletter here, and volunteer or donate to help support refugees settling in Canada.  Click here to see JIAS Canadian Content for Refugee Shabbat 2023. HIAS' US content for Refugee Shabbat can be found here: Refugee-Shabbat-5783-2023-Resource-Guide.pdf (hias.org)
https://yourbayit.org/wp-content/uploads/2023/01/Screen-Shot-2023-01-31-at-9.10.26-AM.jpg
363
394
Rachel Barenblat
https://yourbayit.org/wp-content/uploads/2019/05/bayit-logo-fullcolor.png
Rachel Barenblat
2023-01-31 10:13:20
2023-01-31 10:13:20
Beshalach: Building Brave and Bold in the Face of Crisis