Part of a yearlong series mining Torah's wisdom about spiritual building and builders.
Question: How to build a special community that focuses on the transcendent?
Answer: Empower an entire nation!  And build spiritual life around this collective empowerment.
This idea might sound over the top, but it's what this week's Torah portion (Yitro) suggests.  Everyone in the people of Israel – men, women, children – are to be "a kingdom of priests and a holy nation" (Ex 19:6), and this "priest" we are to be is different from the priestly class in Torah.
If not the priestly class, what is this kind of "priest" we all are called to become?
A "priest" functions as intermediary between humanity and divinity.  When I think of that kind of "priest," I think of someone to whom one might go for spiritual guidance, perhaps for assistance in navigating life from an ethical or holy perspective. I think of someone ordained to perform a role, a function on behalf of others in tackling the mysteries of life with zeal and holiness.
That kind of "priest" is a rarefied, limited role.  Whether for a "priestly class" defined by lineage, or a calling ripened by learning, that kind of "priestly" calling isn't for everyone – and that's a good thing.  I wouldn't want to live in a world in which everyone were a priest, rabbi, pastor or imam. I also wouldn't want to live in a world in which everyone were a trash collector.  We'd have really clean streets, but not much else.
To date, my calling and daily routine involve a courtroom, not a bimah. I went to law school, not seminary.  Even so, Torah's radical vision of a "kingdom of priests" suggests a kind of priesthood that is for everyone regardless of what we do for a living or what we think we can do.
This kind of "priest" isn't a role but an identity.  It's not a go-between or intermediary, but a way of being.  It's a calling to seek the sacred and serve the sacred precisely in the lives we lead.
This "priestly" calling asks me not to outsource my spirituality to anyone – even the people who take on a "priestly" role as pastor, rabbi or imam.  That's Torah's calling, for each person to live spiritually, and in that way become "a kingdom of priests and a holy nation."
But how?  How do we build in a way that reminds that we mustn't outsource our "priestdom"? And what does this mean for how we build spiritual life?
One clue is in the Hebrew word for priest, kohen, from the Hebrew l'kahen ("to serve").  A priest is one who serves: we are called to serve.  Whatever our paths in the world, we can understand our way in the world as a way of service.
If so, then we must build spiritual life for that.  We must build to empower everyone, and remind everyone that they are empowered – commanded – to serve in their own right.
What does that kind of building look like?
Maybe it looks like increased engagement and investment: one can't be a priest, simultaneously a servant of the community and a spiritual leader, from a place of ignorance or uncaring.  That's a calling to spiritual education.
Maybe it looks like teaching our kids (and ourselves) to speak not about God from a distance, but with God with the presumption of relationship.
Maybe it looks like linking social justice impulses with ritual time, so that at moments of ritual significance (like havdalah) we're channeling our energy also into building a better world. Maybe it looks like a website that curates resources for lifecycle moments so that a spiritual seeker can access tradition's wisdom at their fingertips wherever they are – whether home, vacation, or a hospital hallway. (Full disclosure: those two things are among Bayit's first keystone initiatives.)
Maybe it looks like something we can't yet imagine. As a "nation of priests," we all get to shape what and how we build.  That's Torah's invitation to the nation of Israel, to all who wrestle with these fundamental questions.
As a "lay priest," I explore paths my ancestors blazed. I make them my own, in ways that aspire to being spiritually open and vulnerable, building new structures on tradition's foundations.  This task can't succeed if only "professional Jews" — yesterday's kohanim, or today's rabbis — pick up the building mantle.
That's Torah's wisdom: only all of us together, all of us living into being "priests," can live into the holy strength, vibrance and enduring relevance that is "a kingdom of priests and a holy nation."
So it was in the days of our ancestors, and so it is now and forever.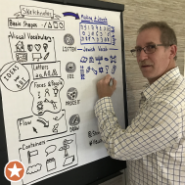 By Steven Green. Sketchnotes by Steve Silbert.
https://yourbayit.org/wp-content/uploads/2019/01/img_0185.png
5152
6667
David Markus
https://yourbayit.org/wp-content/uploads/2019/05/bayit-logo-fullcolor.png
David Markus
2019-01-20 12:19:40
2019-06-06 23:32:34
A Nation of Priests (Everybody Builds)