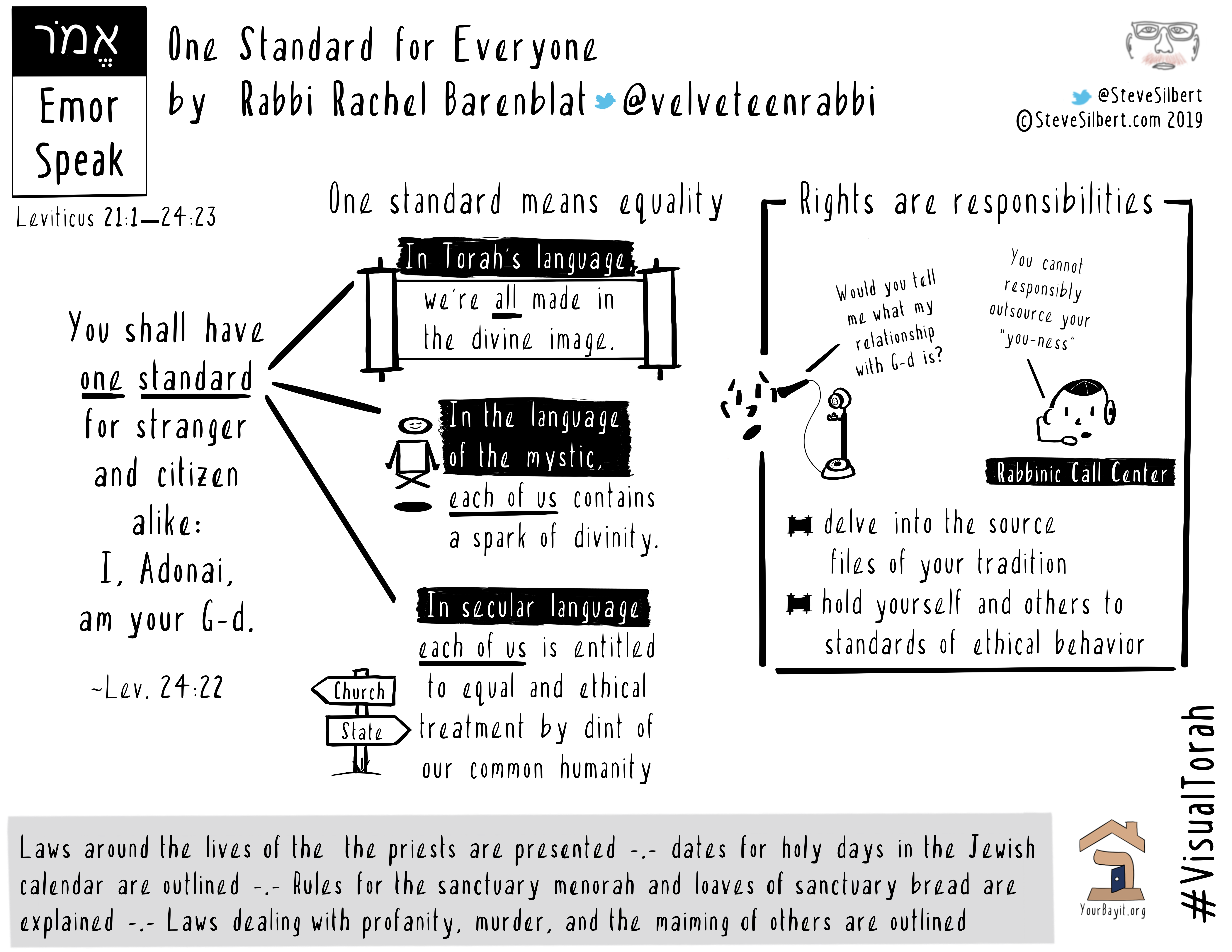 Part of a yearlong Torah series on building and builders in Jewish spiritual life.
In this week's Torah portion, Emor, we read, "You shall have one standard for stranger and citizen alike: I, Adonai, am your God." (Lev. 24:21) I can't think of a better guideline for building. One standard for everyone, whether stranger or citizen. Torah asks us, "citizen and stranger" alike, to build the Jewish future in a way that lives up to tradition's ethical and communal building codes — the injunctions in Torah and tradition about who and how we should be.
Our houses (our Judaisms) may be built from different materials, have different types of rooms, or have different dimensions. Regardless, Torah calls us all to build wisely, stranger and citizen alike. Rashi (d. 1105) writes that "I, Adonai, am your God" implies "the God of all of you," Israelite and stranger alike. In other words: relationship with God isn't ours alone. Ibn Ezra (d. 1167) agrees, reading "your [plural] God" as "God of the native and God of the stranger."
This may be surprising coming from a tradition that began with triumphalism, the assumption that there is only one right way to connect with or understand divinity. But these classical commentators argue for a post-triumphalist reading of the verse. God is in relationship with all of us. That's why this verse about the ethical obligation to hold everyone to the same standards ends with the reminder that (as Rashi and Ibn Ezra would have it) God is everyone's God.
This God-talk may be making some of us squirm — what if we don't believe in God? (Though following in the footsteps of Reb Zalman z"l, I always want to ask: tell me about the God you don't believe in, because maybe I don't believe in that God-idea either. I'm more interested in being in relationship with holiness than "believing in" it.) But this verse offers an ethical grounding regardless of what we do or don't understand the G-word to mean.
Relationship with holiness is everyone's birthright: citizen and stranger, believer and non-believer. And because all of us are in relationship with the holy, all of us need to build with wise building codes in mind. Whether we feel like "insiders" or "outsiders" to Jewish tradition and community, the Jewish future asks all of us to build with strong ethical standards, ensuring that our outsides match our insides, in a way that's participatory and empowering to all.
In Torah's language, we're all made in the divine image. In the language of our mystics, each of us contains a spark of divinity. In secular language, each of us is entitled to equal and ethical treatment by dint of our common humanity… and each of us is asked to live up to the same standards of ethical behavior and informed participation. Each of us must build according to code, in order not to endanger ourselves and each other with the structures we put in place.
I see three lessons here for us as builders of Jewish community:
1) One standard means equality
We all have rights and responsibilities. There is no hierarchy here between clergy and laypeople, or between the ancient priestly class and "the rest of us," or between Jews of different denominational backgrounds. There is no hierarchy here between those born into Jewish families and those who choose Judaism, between people of differing genders, or between Jews and non-Jews. If there's one standard for all of us, then the rules ("building codes") of an upright and ethical society apply to all of us equally.
2) We can't outsource
And if there's one standard for all of us,  then we can't responsibly outsource our Jewishness to anyone else — to clergy, or to people with more training, or to those residing in the Land of Israel. On the contrary, all of us share the obligation of learning enough about our Jewishness to build a meaningful Jewish future with our own hands. All of us should aspire to equal standards of ethical behavior, and equal standards of intellectual and spiritual curiosity, and equal standards of active engagement.
3) As for those who refuse to "build to code"…
People or organizations that refuse to take safety seriously (whether physical, emotional, or spiritual) are not acting in accordance with Torah. Torah often says that those who fail to live up to the ethical obligations of the mitzvot (connective-commandments)  become "karet," cut off — which to me suggests not that they will be excommunicated, but rather that with their choices, they cut themselves off from community and from holiness.
Imagine a Jewish future in which we all understand ourselves to be responsible for our Jewish learning, our Jewish growing, our Jewish building. Clergy and laypeople; from Orthodox to Reform, across and beyond the denominations, including the non-Jews in our communities and families; across diversities of race; across the spectrum of gender identity and sexual orientation — building with one standard of ethical, active engagement for "us" and "them" alike.
Imagine it, and then go and build. The Torah, and the Jewish future, ask no less.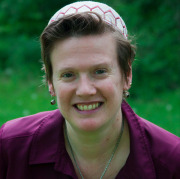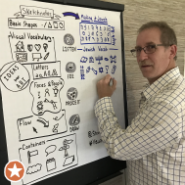 By Rabbi Rachel Barenblat. Sketchnote by Steve Silbert.
https://yourbayit.org/wp-content/uploads/2019/05/IMG_0796.png
5152
6667
Rachel Barenblat
https://yourbayit.org/wp-content/uploads/2019/05/bayit-logo-fullcolor.png
Rachel Barenblat
2019-05-12 07:00:41
2019-06-06 23:26:06
One Standard for Everyone