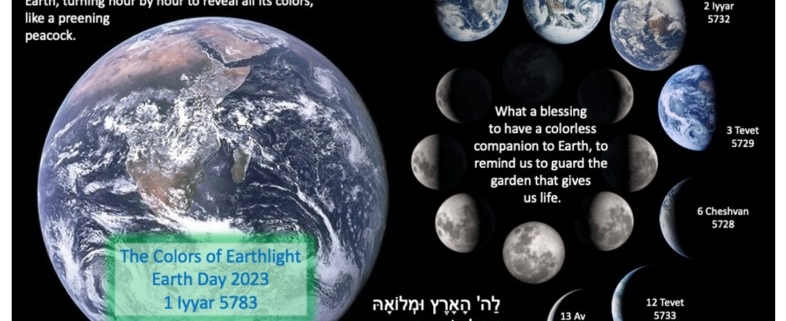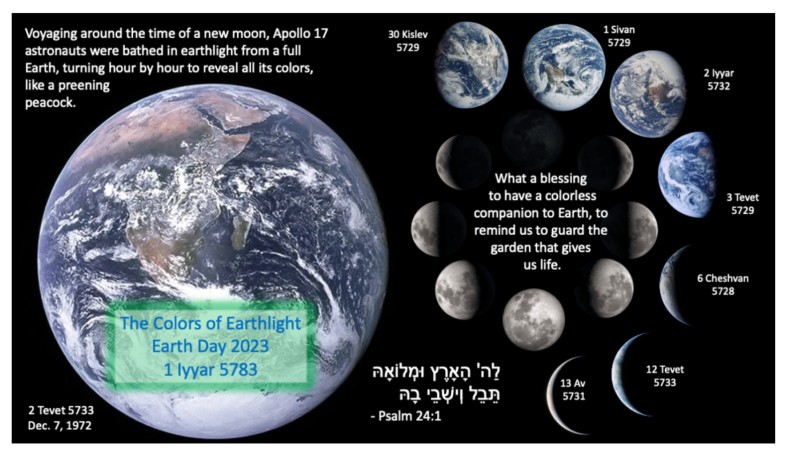 I open with gratitude: I'm fortunate to serve as a volunteer on the boards of three non profit organizations dedicated to building Jewish community through education and outreach. This week presented me with an opportunity to highlight the work of two of these groups, and for this I'm doubly grateful.
For the second year in a row, my friend and colleague on the Advisory Board of the Jewish Climate Action Network of Georgia (JCAN-GA), Bill Witherspoon, has spearheaded the creation of resource material for the Jewish community's celebration of Earth Day. In 2022, when Earth Day coincided with the end of Passover, we worked together on a source sheet that included Jewish views on the environment from across the full denominational spectrum, an Earth Day chronology, and Jewish texts related to the environment from the Torah and Haftarah portions.
This year Earth Day coincides with Shabbat/Rosh Hodesh Iyyar. The new moon on Friday night, if visible, will be a tiny sliver-crescent in the sky. Bill, inspired by the juxtaposition of the phases of the moon with NASA's now-famous Earthrise photo, created a slide and wrote a reflection that could be shared during the Shabbat/Rosh Hodesh service at Congregation Bet Haverim (CBH), where he is a longtime member of the chorus and green team. He worked with an artist, another member of CBH's green team, to create a high-resolution, printable poster for congregations and individuals that do not use electronics on the sabbath. 
While Bill chose the excerpt from Psalm 24 for his slide, I added some items from last year's Earth Day chronology with links to additional NASA photos. Together we brainstormed liturgical connections so we could offer suggestions about how one could add this prayer to the Friday evening or Saturday morning service. We agreed his reflection fit perfectly with the first blessing before the recitation of Sh'ma, which praises God the Creator of the lights in the sky. 
Joanna, Jewish community organizer and convenor of JCAN-GA's advisory board, shared the resource with the Jewish Earth Alliance. Another advisory board member shared it with the green team and rabbis of her synagogue, and another member who is a Reform rabbi shared it with our Atlanta Rabbinical Association colleagues. 
When I asked Bill whether I could share it with the Bayit Board and here on the Builders Blog, he agreed enthusiastically, "I am glad to see this shared as widely as possible." I humbly suggest this is how we build momentum to address the challenges of climate change, how we create community and partnership to begin healing the earth.
I close with gratitude: Thank you, if you are so inspired, for sharing these resources and using them to celebrate Earth Day-Shabbat-Rosh Hodesh Iyyar. 
The Colors of Earthlight: A Reflection for Earth Day 2023/Rosh Hodesh Iyyar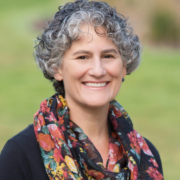 Rabbi Pamela Gottfried serves on Bayit's Board of Directors. 
Illustration and Reflection by Bill Witherspoon.
https://yourbayit.org/wp-content/uploads/2023/04/earth.jpg
456
786
Rachel Barenblat
https://yourbayit.org/wp-content/uploads/2019/05/bayit-logo-fullcolor.png
Rachel Barenblat
2023-04-18 21:08:21
2023-04-18 21:08:36
Creating "The Colors of Earthlight" Reflection & Resources for Earth Day 2023