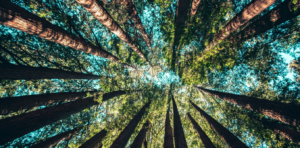 כִּי תִבְנֶה בַּיִת חָדָשׁ, וְעָשִׂיתָ מַעֲקֶה לְגַגֶּךָ; וְלֹא-תָשִׂים דָּמִים בְּבֵיתֶךָ, כִּי-יִפֹּל הַנֹּפֵל מִמֶּנּוּ.
If you will build a new house, you shall make a fence for your roof, so that you will not place blood in your house if one who falls, falls from it. (Deuteronomy 22:8)
Our bodies house our souls and this verse from Deuteronomy is understood as referring not only to a new physical home, but also to a newly repentant body. As we prepare for Rosh Hashana we are tasked with repairing the mistakes of the last year, and in doing so we are rebuilding ourselves and creating a new ideal home for our soul. Old habits are hard to break and our tradition encourages us to generate positive momentum, through good actions, as the easiest way to shift our routines in the right direction. 
Just before the mitzvah of fencing in one's roof, we are taught of the commandment to send away the mother bird prior to taking her young. Rashi explains the juxtaposition as "one mitzvah leads to another mitzvah." When we habituate ourselves to doing good, it seems we are granted more opportunities to advance that cause. "Mitzvah" is a language of connectivity and brings us closer to G-d, the source of all goodness, and also manifests the goodness of our soul into this world. As an example, the Ramchal frames our ability to overcome laziness in relationship to our recognition of how good G-d is to us. Being roused to passionate acts of holiness is the natural consequence of removing the obstacles to that awareness. 
These commandments map our path of existence and accompany us along the journey. The Medresh applies the verse "for they are an adornment/accompaniment (לוית) of grace" to the mitzvah of building a fence on one's parapet. King Solomon, the author of Proverbs, could have simply stated that the Torah guides us on our way –  what role does grace play in it?
In the mystical tradition, a person's head corresponds to G-d's Name, the shem Havaya and is alluded to in the fence, גגך, also having a numerical value of 26. Just as a person on the top of a building needs protection from falling, so too the Divine presence resting atop a person's faculties also needs to be guarded.  
This natural resting place of the Divine was lost after the sin in the garden, but is restored through repentance. We now must be proactive in preserving this aspect of the Alufo Shel Alom, The One Source of the World, represented in the Aleph א of Adam אדם. The letter א is made up of two yuds "י" and a vuv "ו", equalling 26. The mystics read this verse as a warning to protect our holiness or risk losing the aleph and again descending "to have blood" – dam דם – adam without the aleph.
The Medresh tells the story about Adam's ability to name all of the animals, based on their essential identities. After proving his skillset, G-d asks Adam: "And what is my name"? Adam answers with the Shem Havya as it says אֲנִ֥י יְקוָ֖ק ה֣וּא שְׁמִ֑י – I am Hashem, that is my name – because it is what Adam called me.The Medresh concludes by explaining that this name provides the condition for us to be in a relationship with G-d through the commandments.
This is the function of being guided by grace. When we move with the intention of healing the brokenness of the world, we are presented with a G-dly partnership to repair it all. King David writes יְחׇנֵּ֥נוּ וִיבָרְכֵ֑נוּ יָ֤אֵֽר פָּנָ֖יו אִתָּ֣נוּ סֶֽלָה May G-d be gracious and bless us, may G-d illuminate G-d's countenance with us. It has been observed that G-d shines "with us" (אִתָּ֣נוּ), not "on us". Grace is first given to us, and then we are blessed with the hidden light of the Torah to renew our body and spirit.
R. Mike Moskowitz is a founding builder at Bayit and scholar-in-residence at CBST. 
https://yourbayit.org/wp-content/uploads/2021/08/file-20190426-194627-wssvhb.webp
668
1356
Rachel Barenblat
https://yourbayit.org/wp-content/uploads/2019/05/bayit-logo-fullcolor.png
Rachel Barenblat
2021-08-18 12:09:54
2021-08-18 12:09:54
Graceful Masculinity / Graceful Building: Ki Seitzei