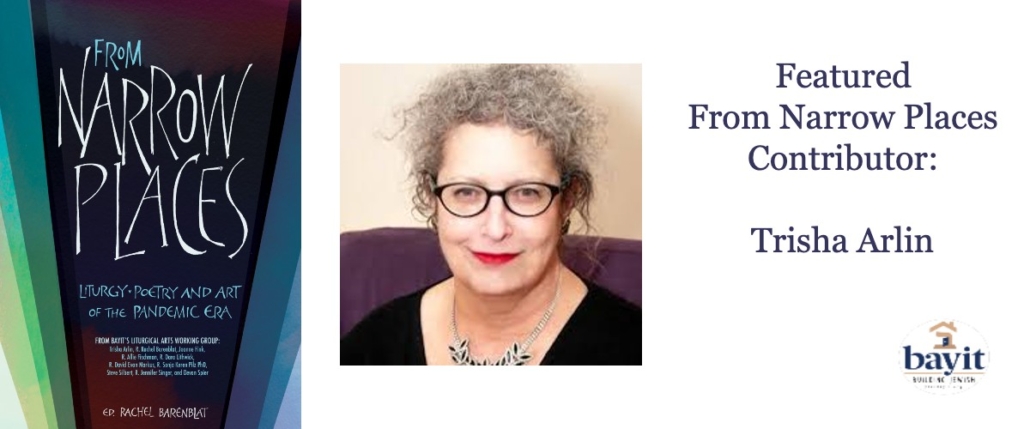 Trisha Arlin, a builder in Bayit's Liturgical Arts Working Group, is a liturgist, writer, performer and student of prayer in Brooklyn, NY and was a part-time rabbinic student at the Academy of Jewish Religion (AJR), 2012-18. Trisha was the Liturgist-In-Residence during the National Havurah Committee's 2014 Summer Institute, and has served as Scholar or Artist in Residence where she has read, led services, helped congregants create services and seders and taught her class, Writing Prayer. On Zoom, Trisha teaches prayer writing from her home to individuals and small groups and with Ritualwell, Haggadot.com and synagogues around the country. Trisha received a BA in Theater from Antioch College in 1975 and MFA in Film (Screenwriting) in 1997 from Columbia University.
In 2009/2010, Trisha was an Arts Fellow at the Drisha Institute and is a graduate of the sixth cohort of the Davennen Leadership Training Institute (DLTI). Her work has been published in her book, Place Yourself: Words of Poetry and Intention (a collection of liturgy and kavannot. Foreword by Rabbi Jill Hammer, Artwork by Mike Cockrill. 2019 Dimus Parrhesia Press); the Journal of Feminist Studies in Religion; Seder Tefillot: Prayers for the High Holydays, (Movement for Reform Judaism); B'chol Levavecha (CCAR Press); Beside Still Waters: A Journey of Comfort and Renewal, Bayit and Ben Yehuda Press; A Poet's Siddur (Ain't Got No Press); Studies in Judaism and Pluralism (Ben Yehuda Press) and can be found online at TrishaArlin.com, at Ritualwell.org, opensiddur.org and her blog, triganza.blogspot.com/.  If you wish to support her work as a liturgist, please go to www.trishaarlin.com/support-my-work/ where you can make onetime donations via PayPal or support her ongoing work via Patreon.
Here are three selections from her work in From Narrow Places:
Sitting In Emptiness
On Sukkot, we sit in the sukkah:
In an empty room
Porous walls
Holes in the ceiling
No door
And we feel the same:
No hope
Unprotected
Everything bad gets in
And no way to get out
And we feel the same:
Possibilities for miles
Vulnerable to love
Safe in the community's hut
Open to Holy Wholeness
We sit in this emptiness that is not empty
And in a week it will be gone.
Trisha Arlin
My Seder Plate
This year I don't need symbols on my Seder plate.
This year I am very literal.
An egg is just an egg,
A bone represents only bones.
This year I'm all pshat.
Hate, Lies, Anger, Fear, Pain, Isolation,
Death
Only an empty Seder plate can hold all that truth.
Trisha Arlin
Kri'ah
When my mother died,
I was 3000 miles away
On a teen study trip in England.
I said goodbye to her at the airport
and never saw her again.
They woke me up in the dorm
And told me my mother was sick and I had to go home
to New York.
Part of me knew that this meant she was dead
But as my friends gathered to say goodbye
I complained, to their horror,
about my mother's hypochondria and
how she was always interrupting
whenever I was having fun.
The only book I had with me on the plane home was
The Myth of Sisyphus by Albert Camus,
and this was kind of funny even then.
I mean, really?
My father told me she was dead as I walked in the door and
All I could think about was what I had left behind:
My first boyfriend,
Nigel,
Who had eyes like a young Martin Landau.
The house was filled with relatives and people from the Temple.
I made jokes and refused to cry.
My mother was 48.
I was 16.
When my father announced he was sick
I was 3000 miles away living in the Pacific Northwest.
It took about a year for him to die.
I came East for a visit,
We talked about everything except his coming death
Or that I loved him.
I said a normal goodbye as I got into a cab to the airport to go back to Seattle.
He looked very sad
And I never saw him again.
I had been planning to move back home in a few months
In time for his last days
But he died in an emergency room a few weeks later.
I returned for the funeral and cried during the service
And cried at the cemetery
And I cried when, for the first time in 12 years, I saw my mother's headstone.
My father was 61.
I was 28.
I remember the sound of the black ribbon
Ripped apart in shock and grief, each time
By the rabbi
When I think of all the families who watched
As their parents went into the hospital with COVID
And who never saw them again.
Trisha Arlin
From Narrow Places: Liturgy, Poetry, and Art of the Pandemic Era was published this month by Bayit and features the collaborative work of our pluralist Liturgical Arts Working Group over the first eighteen months of the COVID-19 pandemic.
https://yourbayit.org/wp-content/uploads/2022/01/TrishaBanner.jpeg
500
1200
Rachel Barenblat
https://yourbayit.org/wp-content/uploads/2019/05/bayit-logo-fullcolor.png
Rachel Barenblat
2022-01-05 14:18:40
2022-01-05 14:18:40
Trisha Arlin in From Narrow Places