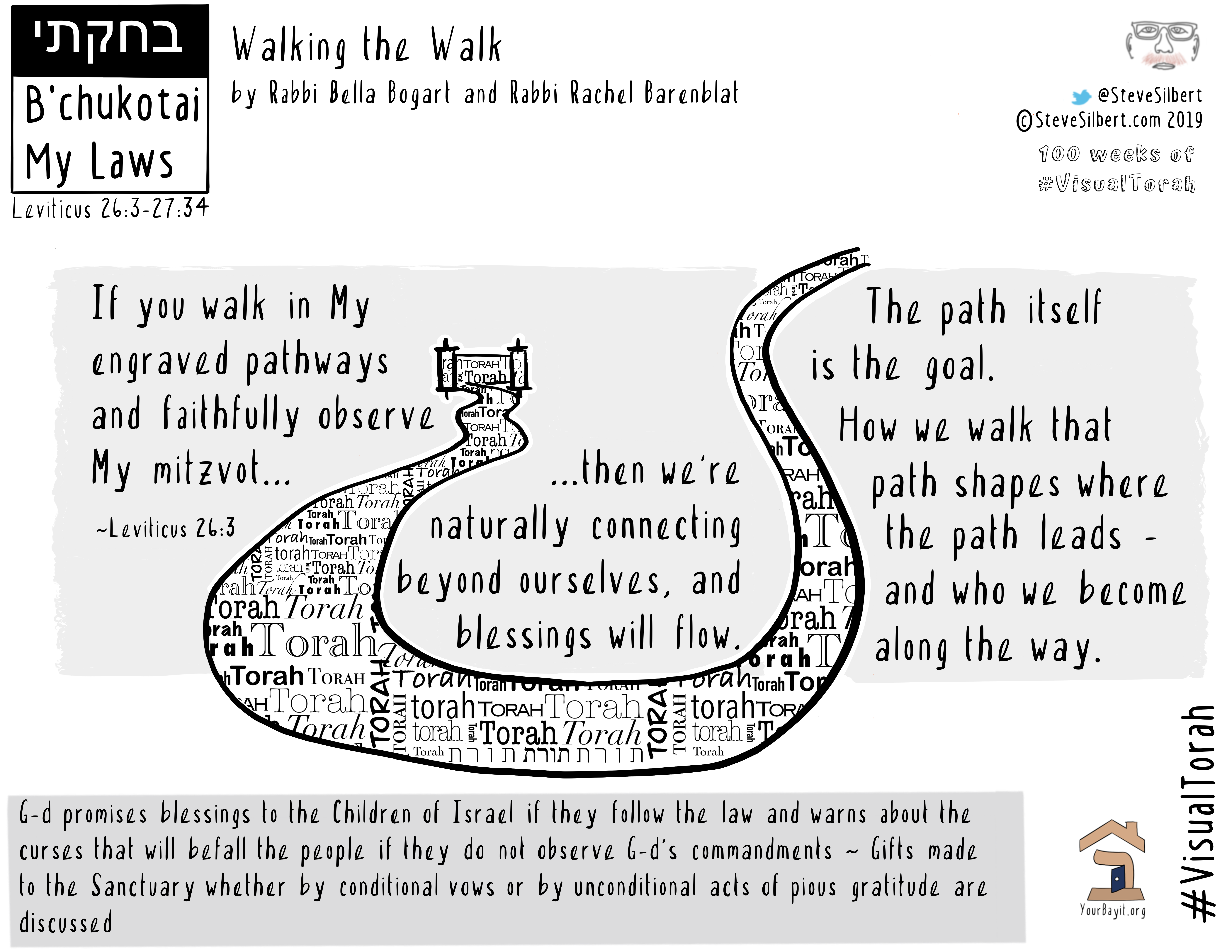 Part of a yearlong Torah series on building and builders in Jewish spiritual life.
This week's Torah portion (Bechukotai) lists "blessings" and "curses," "rewards" and "punishments."  If we honor the mitzvot, Torah says, then "blessings" will flow.  If not, then we sign up for "curses."
This ancient theology may not necessarily hold up for us as moderns.  What to do with an ancient theology that doesn't seem to hold? How to build spiritually when the middle doesn't seem to hold?
We all know that "bad" things happen to "good" people, and no spiritual building can hold by pretending otherwise.  It's simply untrue that every well-lived life leads only to outwardly positive outcomes. It's equally untrue that difficult circumstances prove that someone strayed from the path.
We read Torah's words differently.  The resonance we find in this week's portion is not in the "if/then" details, but rather in how the "if" produces the "then" that follows.
Actions and choices have consequences.  Spiritual building isn't about "deserving," but about wisely preparing for the immense power of consequences.  What we do matters. How we act matters. How we treat each other matters. They shape who we are.
How do we build this awareness of consequence into the holy work of spiritual building?
Our answer is this: we must teach, over and over again, that the path itself is the goal.  How we walk that path shapes where the path leads – and who we become on the way.
We follow mitzvot not to bring about blessings (though some mitzvot genuinely can yield positive outcomes), but because choosing to follow mitzvot is itself a way to experience a life oriented beyond itself.  We aspire to build a Jewish future according to Torah's high standards of ethics and interpersonal interaction not to merit external reward, but because living up to high ethical and interpersonal standards is itself the reward.
The opening of this week's portion underscore the point. "If you walk in My chukim (engraved pathways) and faithfully observe My mitzvot (connective commands)," then good things beyond us will follow. The "if" creates the "then" that follows. If we walk in God's engraved-pathways, then we're naturally connecting beyond ourselves.
The Hebrew for "walking" shares a root with the term halakhah (the way, euphemistically "the law"). God's engraved-pathways point to our way of walking.  If we walk in those ways, naturally we keep the mitzvot (connective commands), holy links to our highest selves and our Source.
The way to follow the connectors is to walk in such a way as to become engraved with holy instructions and holy ethical choices.  And because mitzvot point the way and evolve with us, they're not static.  If we walk engraved by God, following the connectors, we'll be in conversation with the mitzvot as they evolve, and blessings will flow.  Conversely, if we're not "walking our walk," it won't matter what kind of so-called mitzvot we claim to be doing: we'll wind up with curses, because that's where that path leads.
The Jewish future worth building demands that we "walk the walk."  Building Judaism requires walking the walk in a way that engraves God on us and in us, so we naturally follow Torah's ethical blueprints, so that mitzvot connect us "in" and "up" to God. This kind of building asks a new orientation to a mitzvah-oriented life that's first and foremost about the intention to connect spiritually by walking well in the world – keeping in mind that the connection between intention and action is what will secure any spiritual future.
If we walk that walk – if we build that way, with mitzvot as companions, pointers and guides – then we'll experience blessing in whatever unfolds.
By Rabbi Bella Bogart and Rabbi Rachel Barenblat. Sketchnote by Steve Silbert.
https://yourbayit.org/wp-content/uploads/2019/05/IMG_0878.png
5152
6667
Rachel Barenblat
https://yourbayit.org/wp-content/uploads/2019/05/bayit-logo-fullcolor.png
Rachel Barenblat
2019-05-27 14:00:00
2019-06-06 23:25:00
Walking the Walk