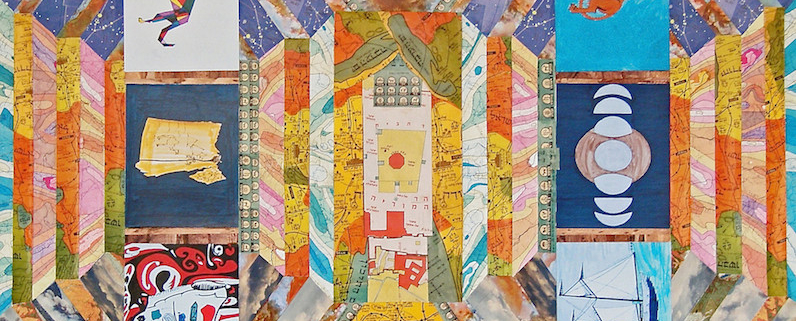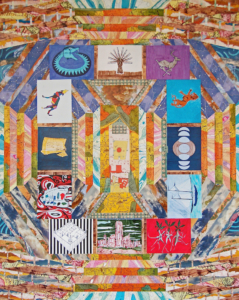 Part of a periodic Torah series on graceful masculinity and Jewish values.
אִישׁ עַל-דִּגְלוֹ בְאֹתֹת לְבֵית אֲבֹתָם, יַחֲנוּ בְּנֵי יִשְׂרָאֵל:  מִנֶּגֶד, סָבִיב לְאֹהֶל-מוֹעֵד יַחֲנוּ.

The Children of Israel shall encamp, each man at his banner according to the signs of their father's house, at a distance surrounding the Tent of Meeting shall they encamp. (Bamidbar 2:2)
Our collective pursuit of unity requires the expansion of our individual identities, not an erasure of them. These forty nine days of counting the Omer correspond to the forty nine different ways that Moshe expounded on the Torah and encourage us to harvest the good that exists in the paths of others as a way of advancing our own development. The Medresh (Bamidbar Rabbah 2:3) finds support for this from the verse (Song of Songs 2:4) "[G-d] brought me to the banquet room and [G-d's] banner of love was over me -הֱבִיאַ֙נִי֙ אֶל־בֵּ֣ית הַיָּ֔יִן וְדִגְל֥וֹ עָלַ֖י אַהֲבָֽה׃". Banner / ודגלו has a numerical value of forty nine, an allusion to the various pairings of attributes – מדה – (also 49) with each other.
We are taught (Sanhedrin 90a) that all of G-d's attributes are applied measure for measure – Midah K'neged Midah שכל מדותיו של הקב"ה מדה כנגד מדה. The Code of Jewish Law, (428:4) instructs us to always read this portion before Shavuot and it is seen as part of our preparation for the annual re-experiencing of Mt Sinai. The Munkatcher Rebbe points out the word "Neged" is a reference to the giving of the Torah (Exodus 19:2) where Israel was "opposite the mountain." Neged is a contranym, a word that has contradicting meanings, and here means both corresponding to and also in opposition.
We first find this when G-d forms a "helpmate" – ezer k'negdo – for Adam (Genesis 2:18). The Talmud (Yevamos 63a), sees this strange phrase as conditional: if one is worthy, then they will have a partner; if not – an opponent.
Rashi also deploys this word "k'neged' to describe the arrangement of the different tribes that Bilam observes when he comes to curse the people of Israel (Numbers 24:2). However, when he sees "the openings of the tents were not aligned/k'neged to each other" (and therefore there is privacy between them) he offers the blessing of Ma Tovu – "How goodly are your tents."
R' Asher Rapshitz (Ohr Yeshie) explains that each one of us has a unique "opening" to spiritual practice. He understands the obligation to ask ourselves "when will my actions reach those of my ancestors Abraham, Isaac, and Jacob?" (Tana D'bei Eleyahu) not to mean that we should try to imitate our ancestors and simply act as they did, but just as our forefathers were each unique and brought new attributes to Divine service like kindness and strength, so too should we bring a new blend of ourselves.
This is also alluded to in the Talmudic principle (Succah 11b) of תַּעֲשֶׂה וְלֹא מִן הֶעָשׂוּי – We should prepare [the sukkah], and not just use that which has already been prepared (Rav Tov). A posture of creative production is not unique to building a sukkah, rather it generates the holiness of our spiritual contributions. They are offerings of our unique makeup.
Exploring who we are and how we are meant to be in the moment is the core of being human. Asking oneself "what is the right thing for me to do now?" is essential in creating the best outcome, particularly for a pleasant coexistence. The word for encampment – machene – is composed of the words מה חן ma chein, "what" and "grace." Understanding what makes us different allows us to relate appropriately and come closer to each other as our distinct selves.
The way G-d spoke to Moshe at the burning bush was different from the way G-d spoke to all of Israel at the giving of the Torah. The Sifra (Parshat Vayikra), in comparing and contrasting the two languages, says that we can learn the teaching from the hermeneutical exegesis known as a binyan av. These thirteen Midos, or principles, correspond to the thirteen Midos HaRachamim, or Attributes of Mercy. According to Reb Lev Yitchak of Berditchev (Kidushas Levi Exodus Ki Sisa) the binyan av corresponds to chein – grace. When we can learn from each other and incorporate that knowledge into building better relationships, we develop more gracefulness. 
Each one of us has our own flag and special purpose in this world. Sometimes it is to be in support of those around us, and other times it is to be in opposition. The important lesson is to be thoughtful and deliberate in harnessing what is unique about us to improve the world for everyone. 
By R. Mike Moskowitz.
https://yourbayit.org/wp-content/uploads/2021/05/GCeeEVi.jpg
1000
796
Rachel Barenblat
https://yourbayit.org/wp-content/uploads/2019/05/bayit-logo-fullcolor.png
Rachel Barenblat
2021-05-14 11:57:21
2021-05-14 11:57:21
Graceful Flags / Graceful Masculinity: Bamidbar