Posts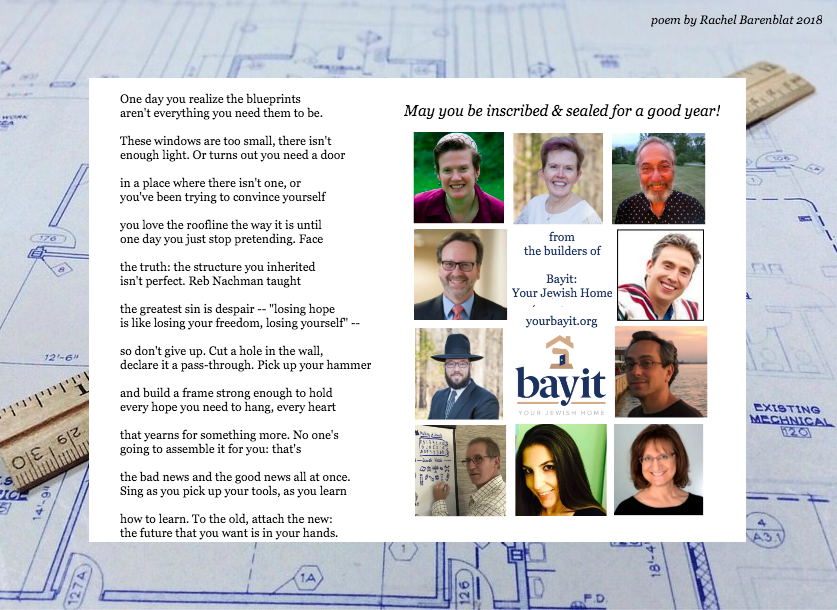 https://yourbayit.org/wp-content/uploads/2018/08/bayit-holiday-card-5779.png
610
837
actualize
https://yourbayit.org/wp-content/uploads/2019/05/bayit-logo-fullcolor.png
actualize
2018-08-20 13:08:03
2019-04-02 15:15:32
Happy new year from Bayit
From Rabbi David Markus comes this setting of two poems in haftarah trope, intended for the second morning of Rosh Hashanah.
The first is Mary Oliver's "Invitation," with its poignant reminder to pay attention and to be ready to change one's life. The second is Stanley Kunitz's "The Layers," which offers a lens on teshuvah with the motif of turning, and ends "I am not done with my changes." Read more
https://yourbayit.org/wp-content/uploads/2018/08/finch.png
400
533
actualize
https://yourbayit.org/wp-content/uploads/2019/05/bayit-logo-fullcolor.png
actualize
2018-08-16 13:08:59
2019-06-06 23:39:29
Two poems for Rosh Hashanah Day 2
This poem by Rabbi Rachel Barenblat and Rabbi David Markus is a renewing of the traditional haftarah for the first day of Rosh Hashanah. (This is a collaborative updating of a poem that R' Rachel released some years ago.) The poem tells the story of Chanah in contemporary, singable English. Its closing words about yearning and grace aim to bring the haftarah's spiritual message home.
To download in high-resolution: click here – Chanah poem with trope [pdf]
https://yourbayit.org/wp-content/uploads/2018/08/honey.png
452
477
actualize
https://yourbayit.org/wp-content/uploads/2019/05/bayit-logo-fullcolor.png
actualize
2018-08-15 13:10:16
2019-06-06 23:40:03
Chanah in poetry and trope