This rendering of Psalm 92 was written by Rabbi Ben Newman. In his Kabbalat Shabbat siddur he notes that the psalm's function is "[t]o inspire feelings of relaxed celebration and the joy of gathering in community for a break from our workaday week. Also to open the channels in our psyche to let creativity flow."
His instructions are: "Take a deep breath. Listen to the music. Tap your foot to the rhythm. When you are ready, join the musicians in singing the song. Lose yourself in the music."
This can be used for solo davenen (prayer) or in community. If you want to play along or share this with other musicians, the chords are Bm, F#, G, D, F# — and if you happen to know the first track of Lin-Manuel Miranda's Hamilton, you'll recognize the chord progression. 
Recorded at Shtiebel. If you can't see the embedded audio, try visiting this post at its own URL: https://yourbayit.org/92-newman
תהילים צ"ב / Psalm 92: Relaxing into the Shabbat Vibe
A ballad, a Song, a ditty for shabbat.
An anthem, a chorale, some funky rock.
A hymn a chant, and a lullaby
As the shabbos day is drawing nigh
It is good to give thanks to Yah our God
To sing to your exalted name
How great are you works Adonai
How deep are your thoughts oh one on high
The righteous will blossom like a palm,
Grow like the cedar of Lebanon
Their gray hair shall be their crown
New and ripe their songs will sound.
Showing that Yah is constant
My rock the One who is no nonsense.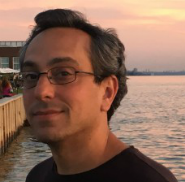 By Rabbi Ben Newman, with a hat-tip to Lin-Manuel Miranda for the chords.
https://yourbayit.org/wp-content/uploads/2020/06/Ps92.jpg
521
1047
Rachel Barenblat
https://yourbayit.org/wp-content/uploads/2019/05/bayit-logo-fullcolor.png
Rachel Barenblat
2020-07-01 08:00:33
2020-06-22 20:52:58
Psalm 92 by Rabbi Ben Newman