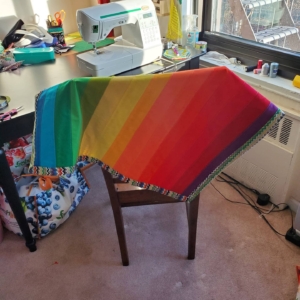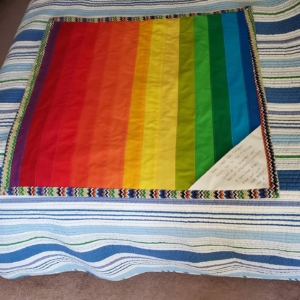 Arts and crafts was always my favorite activity as a kid, and now, as an adult, my inner crafter is emerging in various ways.  This is the first of a series of blog posts on using my untrained inner creativity to generate ritual items and to increase spiritual focus. If I can do it, you can do it, too.
Today's vocabulary:
Bein gavrah:

  small blanket used to cover the Torah in between reading sections.  Most congregations just use the Torah cover for this purpose.

Hiddur mitzvah:

 beautification of a commandment.  Any commandment we follow can be shown more love and care by adding beauty to it.   For example, you can drink from any cup to make kiddush, but why not a silver filigree goblet?
Two down, fifty two to go?
In the midst of covid, our synagogue had an adult b-mitzvah.  It was not what anyone envisioned as the cohort started to prepare, but, as each Torah portion only comes around one Shabbat per year, when it was time for Vayeshev in December 2020, they were ready to go to the Torah, with their loved ones on zoom.  I was there to help with tech; a rare privilege to be together with these wonderful congregational leaders as they were called to the Torah.  I wanted to mark the occasion, and so made a bein gavrah on the theme of Joseph's coat.  I sewed 18 rainbow-hued strips into a size just a bit bigger than a commercial bein gavrah, and backed it with a piece of rainbow zig zag flannel from my stash.  (I'm sure I had a reason when I bought that fabric.  Who knows what it might have been…) I used the flannel to make a picture frame-type border and sewed in a triangle with archival information written in, and the "Torah blankie" was now a tradition in our congregation.  The rainbow bein gavrah made another appearance for Pride in June, and could serve for Noach as well.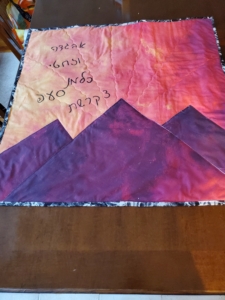 Now, I am part of the next cohort of b-mitzvah students, and we will leyn Torah iy"H (if God wills it) on Shavuot. Some will be in person and some on zoom; covid is ticking back up in New York, slowly but steadily, so there could be more shifting ahead.  In the meantime, I made a bein gavrah for this group as well.  For the front, I used a gradient fabric cut into a fiery sky and purple mountains, bound in smoke, with aleph-bet letters rising, and for the back, a black and white geometric design. There is plenty of space for the rabbi, the other members of the b-mitzvah class, and perhaps the board or the congregation, to write messages before the event.  As a depiction of Sinai, this bein gavrah could be pressed into service for many parshiyot, if not all; but maybe I will make a few more bein gavrah covers for special occasions as they arise.
The idea to make these small quilts came from a blog post by Heather G. Stolz, where she worked on similar projects with b-mitzvah kids and families, where each in the class made something related to their parasha. What a fun idea! As with many examples of hiddur mitzvah, you can get away with less, but why not go for more?  Perhaps I'll only make them for special events, and eventually we will have a larger bunch to choose from.  Or perhaps others will become inspired to make them as well.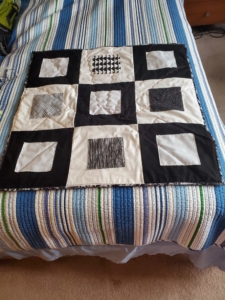 There are secrets sewn into these projects as well.  The rainbow was sewn with pale pink thread, to remember the student who passed away from breast cancer before reaching the bimah.  The smoky binding was bought on an outing with my mom, and resulted in a long geometry discussion with my son.  There are lessons for me as well.  On the Sinai one, I was hurrying at the end, and I don't like the layout of the lettering very much.  I could have taken more time to decide, or, even better, I should have stopped and left the letters off.  How many times do I do things and then think I should have quit while I was ahead?  Then again, Calmin was my grandpa's name, so that's a fun surprise.
If you are someone who sews, you can pretty much figure out the construction by just looking.  If you are someone who does not yet sew, why not form a committee and learn from a congregant who does?  A small team could produce enough Torah blankies to cover the year, without going for a full 54.  Add a tree, and you've got a great starting point.
Check back here as I tell you about my adventures in making a healing quilt, kippot and parochet. I hope you'll look for opportunities to offer something from your hands and heart to your community.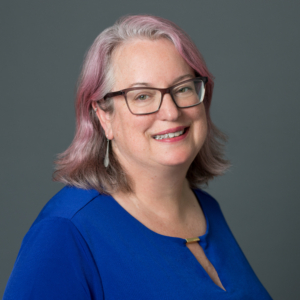 Shari Salzhauer Berkowitz, creator with Steve Silbert of Color the Omer, is an associate professor of Communication Disorders and a speech-language pathologist. She serves as a lay service leader and trustee at Temple Beth El of City Island, NY, also known as "your shul by the sea."
https://yourbayit.org/wp-content/uploads/2022/04/IMG_20201213_082639_724.jpg
1440
1440
Rachel Barenblat
https://yourbayit.org/wp-content/uploads/2019/05/bayit-logo-fullcolor.png
Rachel Barenblat
2022-04-28 20:23:13
2022-04-28 20:23:13
Bein Gavrah as a Spiritual Offering