Part of a yearlong series about building and builders inspired by the Torah cycle.
Look under any building and you'll see its foundation.  Look deeper: you'll see architectural plans. Look even deeper: you'll see some impulse that the builder wanted to bring to life.  Look even deeper than that: see the values, hopes and assumptions that shaped the impulse to build.
We learn this: as we build the spiritual future, sometimes we must re-build the values, hopes and assumptions of building.  Only then can we be sure to build on a foundation that's stable and strong for today rather than just yesterday.
That kind of vision, and the courage to re-vision the foundation, might be the most important tool in the spiritual builder's toolkit.  This week's extraordinary Torah portion (Vayishlach) teaches me so: it's visioning and building for tomorrow, not for yesterday, that matter most.
This paresha opens as Jacob is to face his estranged twin brother, Esau. Jacob will wrestle with… someone. He will reconcile with his brother… sort of.  His daughter will be raped and his sons will exact what they wrongly think is justice. Our ancestors lived rich and eventful lives!
Much of Jacob's life was the wrestle for which he'd be re-named, the name that Israel carries today.  From the start, Jacob wanted what wasn't his: first-born privileges, strength, power the blessing of a father to his own first-born son.  Then at Peni'el ("God turns to face me"), Jacob wrestled.  Was it a dream? a meditation? a physical-level encounter?  Whatever happened, it wrenched his hip, and he'd never walk the same way again.
Jacob's hip injury got my attention, because usually wrestling injuries most affect the shoulder.  Why the hip? Maybe Jacob's limp reminded himself – and us – that Jacob changed. Jacob no longer could walk in the world without a subtle but clear message to others that he's different.
Modern social science and psychology teach that vital to any communication is body language.  Jacob's limp is an outwardly visible token of an inner message. Seeing Jacob's limp, we can see Jacob's change from afar.  As Baal Shem Tov's disciples taught, "legs" and "habits" hail from the same Hebrew word (regel).  Habits are difficult to change, but aspirations can change in a flash, a moment of clarity.  Maybe so for Jacob: he saw a light – Peni'el: God turned to face him.  He emerged limping on his legs ("habits"): in just one night, new aspirations were born that would begin to grow immediately.
Jacob next saw his brother.  He responded to seeing Esau's army not with fear and dread but with conciliation, embracing and crying.  Teshuvah, mea culpa, mea maxima culpa.
For a brief moment: their reunion passed and they parted.  In the words of poet and Rabbi Rachel Barenblat,
"And again the possibility

Of inhabiting a different kind of story

Vanished into the unforgiving air."
What do we learn from this?  While often Jacob is a model for us, not all of Jacob's life is equally worthy of emulation.  When the occasion presents to build a bridge of healing to the past, build it – and then travel it as fully as you can.  Don't let the moment go.
Jacob was right to seize his "Esau moment," but what if the Jacob-Esau encounter hadn't ended?
Imagine a different history if Jacob had built a future with Esau.  What might have become of Dinah? Of Shechem and their men? Jewish-Israelite history might have looked very different.
Too many Jews today aren't finding a nourishing spiritual home in the Judaism they inherited. This is almost inconceivable to me: Judaism has been at the forefront of building bridges to the Eternal, rethinking our place in this universe, and in Rav Kook's words, "Making the old new the new holy."
Think about it.  Since when did Judaism forget its own history of remaking itself?  The judges, prophets, Mishnah and Talmud all were new in their epochs.  Rashi (11th century) was new in his day; Maimonides (12th century) was new in his: he even wrote a "Second Mishnah" that to his mind was clearer and more evolved than the first!  Zohar and the Jewish mystics were new (1300s – 1500s). Hasidism was new (1700s- 1800s). The Reform movement (late 1700s and early 1800s). Denominations. The State of Israel.
Do we forget that every encounter with history changed Israel's path?  Do we forget that we've been building for thousands of years? We rarely seem to forget when we limp, but too often we seem to forget that we're on a Change Mission.  Always we've built a new future – not an old one! And now in the 21st century, today's time of spiritual challenge perhaps unlike any other in our history, we must re-learn that lesson for tomorrow.
The Judaism we need for tomorrow doesn't leave Jacob's "Esau moment" behind.  We must ask: what and whom are we excluding in spiritual life that now we must help re-include?  To me, the values, hopes and assumptions that shape the impulse to build that kind of inclusive future trace back to the moment that Jacob and Esau parted without building a future together.
As spiritual builders, we must be courageous enough to see whom we've left behind and make teshuvah.  This "return" doesn't mean just apologizing and crying: it means re-including – not leaving again.  Only then can we build the Judaism that tomorrow really needs – a richly spiritual and inclusive Judaism that unifies and heals.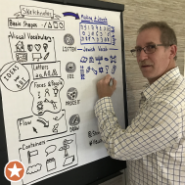 By Steven Green. Sketchnote by Steve Silbert.
https://yourbayit.org/wp-content/uploads/2018/11/img_3523.png
5152
6667
David Markus
https://yourbayit.org/wp-content/uploads/2019/05/bayit-logo-fullcolor.png
David Markus
2018-11-18 12:00:18
2019-06-06 23:36:00
Building Collective Spiritual Foundations: Re-Mixing the Cement