Part of a series on needle craft as spirituality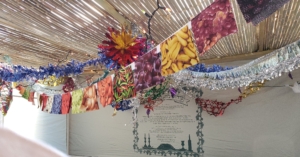 _________________________
Arts and crafts was always my favorite activity as a kid, and now, as an adult, my inner crafter is emerging in various ways.  This is the X of a series of blog posts on using my untrained inner creativity to generate ritual items and to increase spiritual focus. If I can do it, you can do it, too.
Last year, we had a wonderful party and jam at the rabbi's sukkah.  Of course, I could have picked up a bottle of wine or a yummy snack, but at the very last minute, I decided to make a harvest garland.  Most people decorate their sukkahs to a degree known as "ungapatchka" which is Yiddish for "is there such a thing as too much glitter?  Better add all the colors you can find."  Not usually my aesthetic, but perfect for Sukkot.
What makes this garland so quickly and easily thrown together is:  there is virtually no cutting and hardly any sewing.  I purchased a pack of 42 pre-cut 5" cotton squares for quilting, with fruits and vegetables on them. (How long ago and for what purpose had I bought these?  Hey, buying fabric and sewing fabric are two different hobbies!) The 5" squares had pinked edges (meaning cut in a zig zag) so there was no need to do anything but attach them to a long, sturdy strip.  Pinked edges will not fray much.

I had a long roll of twill tape, left over from making masks when Covid was new.  I matched the 42 squares into 21 pairs, and just started sewing them onto the twill tape. I put the pairs so that the garland would look pretty from either side.  I left a long tail at the beginning and the end, and spaced each pair about a finger's width from the next.  No measuring, 
Quick as a wink, I had a long, festive, seasonally-appropriate garland for the sukkah.  It's machine washable, being 100% cotton, and if it gets a bit shabby and softer over the years, well, so are we all.
If you wanted a longer garland, you could buy two packs of fabric, or you could sew fabric only to one side and hang your garland against a wall.  You could use plain fabric for one side, and have the guests write messages on the squares with fabric markers.  You could use all plain fabric, and send squares home with congregants at the close of Rosh Hashanah and have them return them at Yom Kippur, and sew them up really quickly in time for Sukkot.  How fun would that be!  This project is so simple, you could even have a team sew it by hand, with just a running stitch.  On the other hand, if you wanted to get fancy, the internet is full of instructions for swallow tailed buntings and triangle-shaped pennants.  But why not make it quick and easy?  After all, Sukkot pops up so unexpectedly, somehow sneaking up on us.  Just me?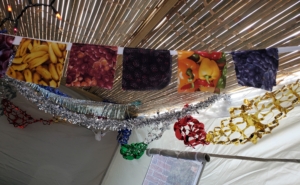 I will always remember that the secret ingredient (aside from last minute rushing) was the twill tape I bought when elastic was so hard to find, and I was making masks and scrub caps for a hospital in the Bronx that was short on supplies.  By using 100% cotton, I was avoiding any latex allergies due to elastic, and making products that were autoclavable and washable by machine in hot water.  I still have loads of twill tape left over, and a ridiculous quantity of elastic when that finally became available.  How wonderful to use it in other ways; festive, joyous ways.
This basic garland idea could serve for so many projects…for birthdays, or baby namings, or house blessings.  That's the best kind of craft I think:  super simple, but open to your imagination and your kavannah.  Once you decide what your garland is supposed to do (welcome someone?  Bring congregants together?  Be funny? Tell a story?) you are more than halfway done.
If you make a garland for your sukkah, please drop a photo below, or tag Bayit on Facebook or Twitter when you post.
Chag sameach — I hope you feel the joy of Sukkot!
Shari Salzhauer Berkowitz, creator with Steve Silbert of Color the Omer, is an associate professor of Communication Disorders and a speech-language pathologist. She serves as a lay service leader and trustee at Temple Beth El of City Island, NY, also known as "your shul by the sea."
*Other posts in this series: Bein Gavrah as a Spiritual Offering – Bayit: Building Jewish (yourbayit.org)
https://yourbayit.org/wp-content/uploads/2022/10/20210921_201655-edited-scaled.jpg
792
2560
Dara Lithwick
https://yourbayit.org/wp-content/uploads/2019/05/bayit-logo-fullcolor.png
Dara Lithwick
2022-10-08 23:04:35
2022-10-19 15:50:45
Make a garland for your sukkah