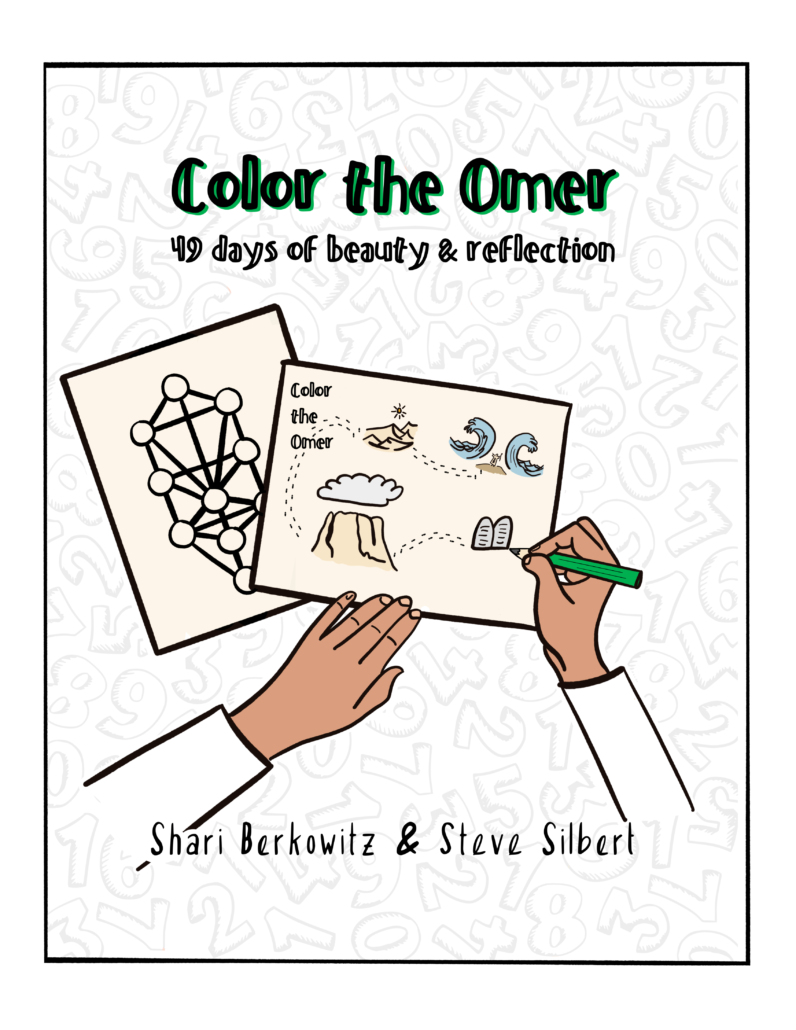 Last year, Bayit published Color the Omer, our first spiritual coloring book.  It was conceived and written by Shari Berkowitz, illustrated by Steve Silbert and edited by R. Rachel Barenblat, and truly, it was a pandemic labor of love.  The book came out just before Passover 2021, and it caught on like wildfire!  People were coloring, and a small subset were putting their drawings, journal entries and haiku on social media with the hashtag #ColorTheOmer. We all counted, together apart (apart together?) and our original goal, to elevate and beautify the mitzvah of counting, was surely achieved.
(Here are some musings on how using the book enhanced our journey: Reflections on Color the Omer.)
And, whoops, Purim has come and gone, and Passover is on the horizon again. So much has changed, but so much has not.  Spring is springing in the Northern hemisphere; everything is arriving in its season.
So, here are a few ideas for you to #ColorTheOmer again, or for the first time.  Of course, you can just color a page a day, as the book was designed; but you can try some experiments, too!
Try black and white patterns only

Try a new medium (markers, pastels, colored pencils, watercolors…)

Laminate your completed pages and hang them in the sukkah, on the walls or hanging as a mobile

Is a page a day too much for you to commit to? Find the pages with 49 elements and color one a day. The Dagim/Fish page has 49 elements, for example.

Use it with a group: each person can choose a page to color, then hang them up when you reach Shavuot;

Glue the pages to cardboard and wrap with yarn or embroidery floss instead of coloring. Poke holes in the cardboard and thread your yarn thru with a needle, or wrap the very end of it tightly in masking tape to make a non-poky needle;

Glue fabric scraps to each element rather than coloring;

For visually impaired artists, glue different textures into the sections:  sand, wheat, barley,  pebbles, flower petals…

Enlarge one at a copy shop and hang it on the wall.  Color it yourself or have your students/family/chavurah color it. 
We were thrilled to see all the ways you used it last year, so we are buzzing with anticipation to see what you cook up this year.
Thanks for your support of Bayit, Color the Omer, and the creators.  It has been an amazing ride so far. You can get your copy here!
By R. Rachel Barenblat, Shari Berkowitz, and Steve Silbert.
https://yourbayit.org/wp-content/uploads/2020/12/ColorTheOmer.png
4400
3400
Rachel Barenblat
https://yourbayit.org/wp-content/uploads/2019/05/bayit-logo-fullcolor.png
Rachel Barenblat
2022-03-21 15:33:00
2022-03-21 15:33:00
Ideas for Color the Omer 2022