Part of a yearlong series on Torah wisdom about building and builders.
In this week's Torah portion, Bo, God instructs Moses (Ex. 12) about four practices they are to teach to the children of Israel. Encoded in these four instructions are four powerful lessons for building the Jewish future.
Torah teaches that each household is to take a lamb. This isn't something for only the wealthy to do, or only the Levites, or only the people who live in a certain part of town or dress a certain way or have certain politics or belong to a certain shul. This practice is for all of us. (And lest the cost of doing Jewish be too high, Torah stipulates that if someone can't afford a lamb, they can go in with another family. What's most important is that everyone participate.)
This echoes a theme from earlier in the parsha. When Moses and Aaron went to Pharaoh and again spoke the words of God's demand, "Let My people go, that they may serve Me," Pharaoh asked who would be the ones to go. Moses replied, "We will all go, young and old. We will go with our sons and daughters, our flocks and herds, for we must observe God's festival." (Ex. 10)
All ages and stages, and all gender expressions: the egalitarianism is striking. That's the first building lesson in this week's parsha. Each household is to take part. All of us, regardless of age or gender or sexual orientation or social station. Active engagement with spiritual life isn't the rabbi's job, it's everyone's job. The work of building the Jewish future requires all of us.
When the lamb is slaughtered, Torah tells us to to mark the doorposts of our houses with its blood, in remembrance of the bloodied doorposts that signalled the Angel of Death to pass over. For two thousand years, Jews have marked our doorposts with mezuzot. (Josephus, who lived from 37-100 C.E., wrote about mezuzot as an "old and well-established custom.") Mezuzot are often very beautiful. But the real beauty of this teaching lies in what the mezuzot represent: awareness of the Holy in all of our transitions.
We can remember the Holy in temporal transitions — e.g. opting to begin a meeting with a melody or a blessing, the way we begin and end Shabbat. We can remember the Holy in spatial transitions — e.g. marking the doorposts of our houses, and even our rooms. When we lie down and when we rise up, when we exit and when we enter: every transition offers us an opportunity to re-orient ourselves toward God. In every day, in every place, we can choose apathy or we can choose engagement. We can choose to knock down, or we can choose to build.
Torah prompts us to mark our doorposts so we will remember that life is full of transitions… and that in every transition, we can choose anew to uplift, to sanctify, and to build.
Torah tells us to eat the feast of Passover with our sandals on our feet and our walking-sticks in our hands. The seder isn't just a dinner party: it's an embodied remembrance of what it was like then (and what it is like now) to be ready to go. The seder is an opportunity to open ourselves to the necessity of change, of going-forth from our stuck places, of new beginnings.
The seder reminds us that sometimes there is sweetness (or at least comfortable familiarity) in being stuck and in letting our spiritual lives be stale. Our job is to open ourselves to the flavor-burst of horseradish. To let our hearts and souls be startled out of complacency. To put on our sandals and be ready to move. To take up our tools and be ready to build. The Jewish future will not look exactly like the Jewish past. Slavish recreation of that past defeats the purpose — and I say that as someone who deeply loves a lot of things about that Jewish past!
But we need to have our shoes on and be ready to go. We need to have our toolboxes in good order and be ready to build. We need to cultivate the faith and trust required to set out on the work of building something new. And we need to approach the holy work of building with the humility of Moses, balanced with the exuberance of Miriam dancing at the edge of the sea.
Clearing out our old stuff
Torah tells us that for seven days we are to remove leaven from our homes, in remembrance of the hasty waybread of the Exodus journey. Reams of pages have been written about the proper way to remove leaven from one's home for Pesach. (Blowtorch, anyone?) But in its simplest (and deepest) form, Torah's teaching here is about shedding the old in order to make ourselves ready for the new.
The word hametz (leaven) derives from the root meaning "to ferment." In a literal sense, leaven is that which has fermented. That's what a yeasted starter does to create the lightness we know as leavened bread. In a spiritual sense, hametz can mean that which is old and sour, the puffery of ego and self-importance that gets in the way of our capacity to build something new.
In order to build a Jewish future worthy of our hopes, we need to be ready to relinquish excessive ego. We need to be ready to relinquish old stories that no longer serve. We need to be ready to relinquish our attachment to mistakes (our own, and others'). Only when we wholly clear our old "stuff" can we make room to build the new. Only when our inner ground is leveled and prepared can we sink pilings for new foundations. Only when we remove what gets in the way of our openness to the unfolding of spirit can we wholly act on the call to come together and build — all of us, attentively, with our work boots on and our best tools in hand.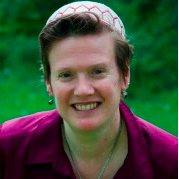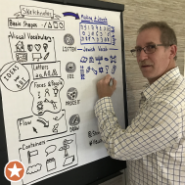 By Rabbi Rachel Barenblat. Sketchnotes by Steve Silbert.
https://yourbayit.org/wp-content/uploads/2019/01/img_0120-1.png
5152
6667
David Markus
https://yourbayit.org/wp-content/uploads/2019/05/bayit-logo-fullcolor.png
David Markus
2019-01-06 12:00:39
2019-06-06 23:33:17
All of Us, Going Forth, On Our Doorposts, Clearing Out: 4 Building Lessons from the Ritual of 4s