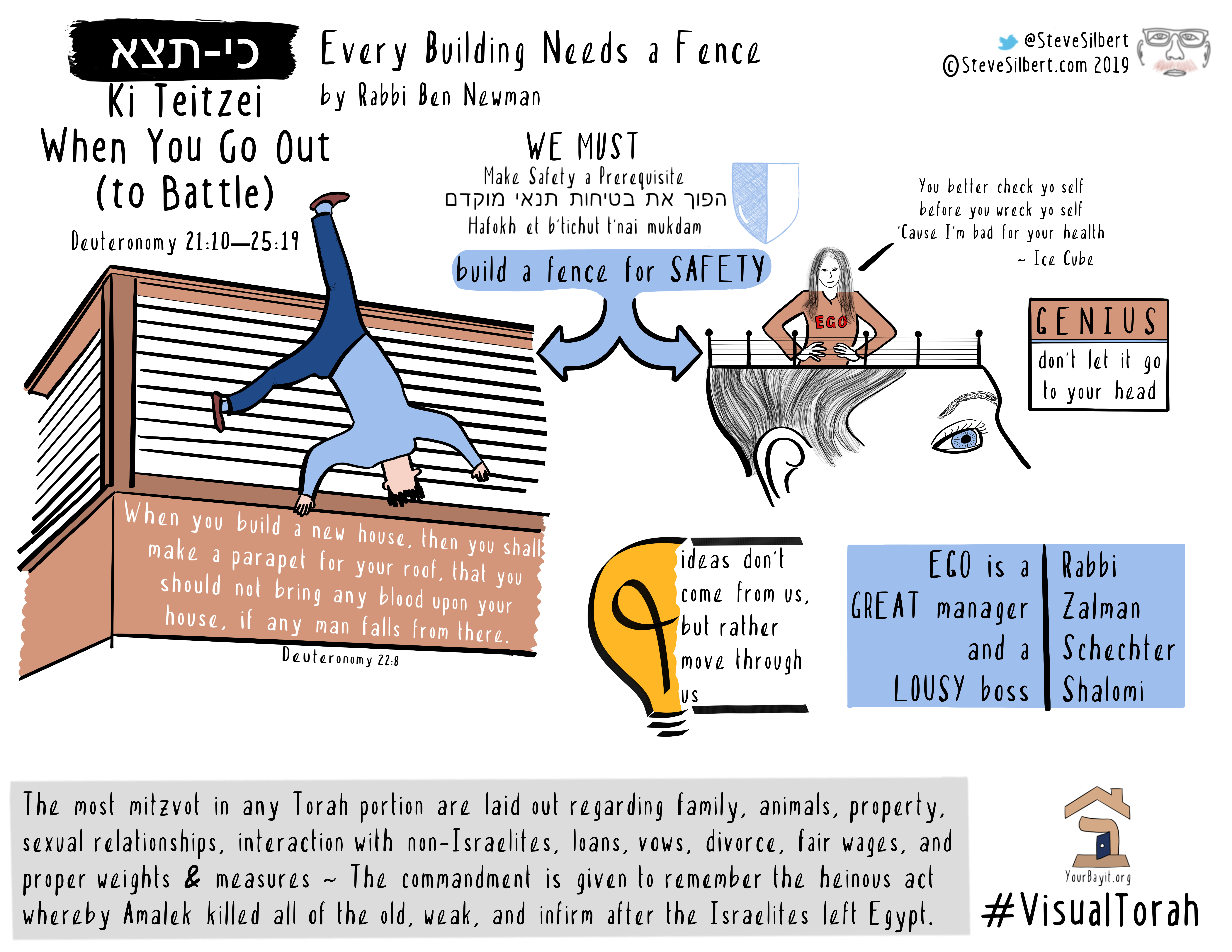 Part of a yearlong Torah series on building and builders in Jewish spiritual life.
In Ki Tetze, Torah says, "When you build a new house, make a railing for your upper story, so that blood-guilt not be held against your house should somebody fall from it." (Deut. 22:8) What a powerful building instruction: whatever kinds of structures we build, we must prioritize safety.
The Hasidic rebbe known as the Maggid of Mezrich reads this as commentary on the psycho-spiritual process of building new interpretations of Torah. In his volume Ohr Torah he writes, "This [the verse about the railing] refers to one offering a new interpretation of Torah. Make a railing for your upper story…As it is, the upper story is on you, referring to the swelling of your pride at this new teaching. Do not let your head get turned by pride! Even though this is a bit of Torah that no ear has ever heard, it comes not from you, but from G!d." 
In her book Big Magic, Elizabeth Gilbert offers similar insight into the creative process. Her main point is the provocative notion that ideas are alive. She's not being metaphorical: she means that ideas are literally living beings, though not made of physical material substance. This is not the way modern Western society usually thinks about the creative process! 
Rather than imagining that ideas are generated by extraordinary people ("geniuses"), Gilbert believes that ordinary people are approached by living ideas seeking a partner who will help them become manifest in the world. She roots this in the original meaning of the word "genius." That word's original usage held not that a particular person is a genius, but rather that a person has a genius. The term comes from the Arabic word djinn (usually rendered in English as "genie"). In this formulation, a genius is like a "muse" — a living idea that comes to a human being, wanting a partner to bring it into the world. 
Why might a modern builder choose Gilbert's paradigm? One answer is that her outlook on building keeps the ego in check, much like the Maggid of Mezrich's notion that an idea "comes not from you, but from G!d." If the idea is not yours exclusively or a product of your genius but an idea you've partnered-with to help it enter the world, or an idea that comes from G!d, then it's a lot easier to avoid the pitfall of excessive ego and pride.
In Big Magic, Gilbert writes, "But do not let your ego totally run the show, or it will shut down the show. Your ego is a wonderful servant, but it's a terrible master — because the only thing your ego ever wants is reward, reward, and more reward…'" She sounds a lot like Rabbi Zalman Schachter Shalomi z"l, who often said, "Ego is a great manager and a lousy boss."
Whatever we build — whether a house, a poem, or a community — we need to remember that our ideas don't come from us, but rather move through us. We are but partners in bringing new structures into the world. This type of "fence for our roofs" keeps our building work, and the structures we build, safe for all.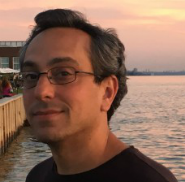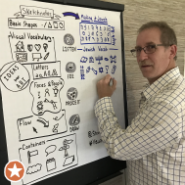 By Rabbi Ben Newman. Sketchnote by Steve Silbert.
https://yourbayit.org/wp-content/uploads/2019/09/IMG_1426.png
5152
6667
Rachel Barenblat
https://yourbayit.org/wp-content/uploads/2019/05/bayit-logo-fullcolor.png
Rachel Barenblat
2019-09-08 07:00:52
2019-09-07 12:23:05
Every Building Needs a Fence