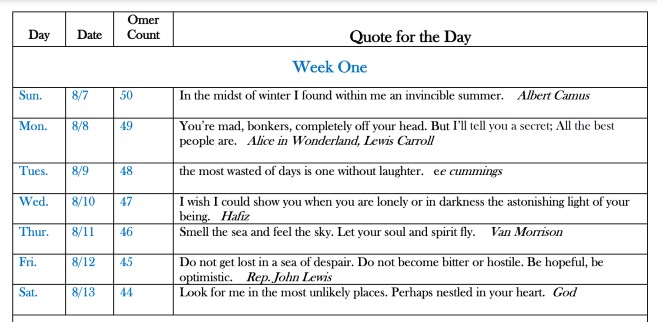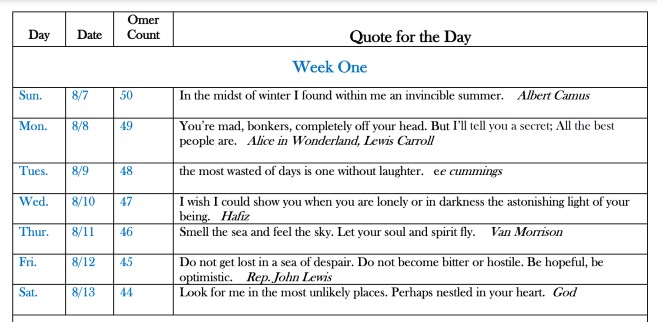 A glimpse of R. Jennifer Singer's Reverse Omer Quotes calendar.
From Rabbi Jennifer Singer, a founding builder at Bayit who is now part of our Liturgical Arts Working Group, comes this tool for spiritual life — specifically, for counting the "reverse Omer," the 49 days between Tisha b'Av and Rosh Hashanah. This could be used to enrich a personal practice of counting the days of the reverse Omer, and could also be used congregationally / communally / by groups anywhere.
She writes:
Counting the Omer is a Jewish practice that marks the transition between the Passover seder to the celebration of Shavuot 50 days later, the day we observe the giving of the Torah. The Jewish calendar gives us another 50 day span, from the lowest day of the year, Tisha B'Av which marks the destruction of the two Temples in Jerusalem, to the beginning of the New Year, Rosh Hashanah. I have collected these 50 quotes and put them into a reverse calendar in the hope that they will help guide, enlighten, and perhaps amuse you during this transition period. Any typographic errors or misquotes are my own.
Download the PDF here (and if you use it, let us know how it works for you!):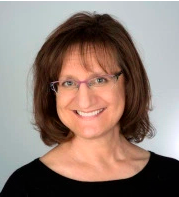 Rabbi Jennifer Singer, a founding builder at Bayit, is part of Bayit's Liturgical Arts Working Group,.  She serves Kol HaNeshamah in Sarasota, Florida, and blogs at SRQ Jew.
https://yourbayit.org/wp-content/uploads/2022/08/OmerOne.jpg
322
657
Rachel Barenblat
https://yourbayit.org/wp-content/uploads/2019/05/bayit-logo-fullcolor.png
Rachel Barenblat
2022-08-04 14:06:04
2022-08-04 14:09:44
Quotes for the Reverse Omer