Join three members of Bayit's Liturgical Arts Working Group — R. Sonja Keren Pilz, R. David Evan Markus, and R. Rachel Barenblat — for a ritual for the full moon of Adar I, designed to reconnect us with the flow of spiritual time. Many of us have felt that time is out of joint since the pandemic began, and the Jewish leap year adds to that feeling. Join us as we use song, sound, and all of our senses to repair our connection with time and reboot ourselves toward spring. All are welcome! Co-presented by our three shuls in three different states: Congregation Beth Israel of the Berkshires, Temple Beth-El of City Island, and Congregation Beth Shalom – Bozeman, Montana.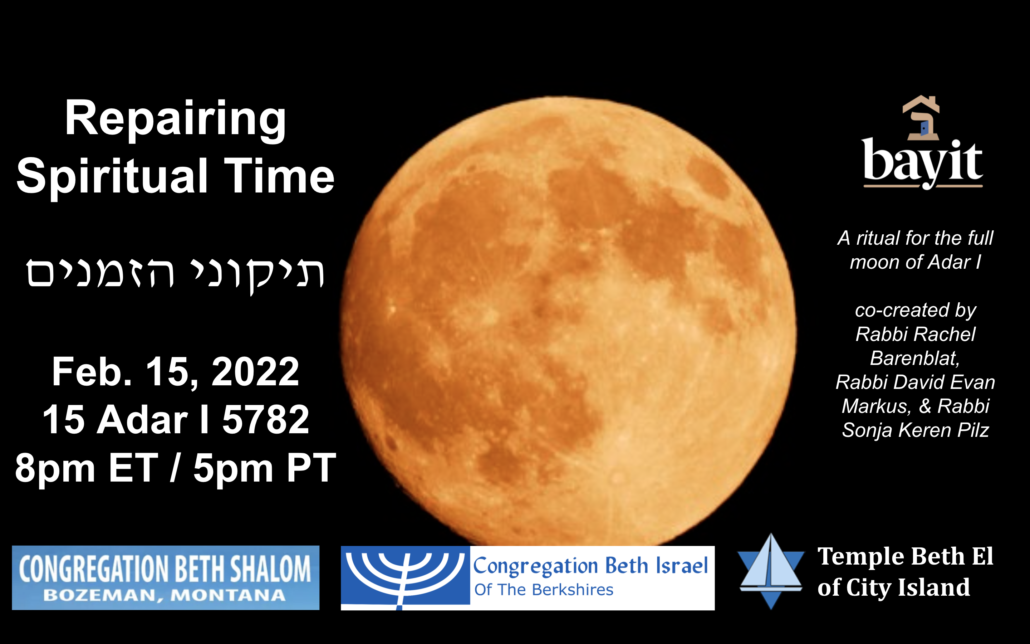 Ideal ritual items to have on hand: kiddush cup and juice or wine to bless, candle and holder (ideally havdalah), any Judaica (eg tallit, chanukkiyah, shofar, Star of David, seder plate, other ritual objects), and if possible a stone or shell and something with scent.
On Zoom only; please have your name on your Zoom account so we know you are a real person and not a bot.
https://yourbayit.org/wp-content/uploads/2022/02/Screen-Shot-2022-02-08-at-6.46.52-PM.png
1800
2880
Rachel Barenblat
https://yourbayit.org/wp-content/uploads/2019/05/bayit-logo-fullcolor.png
Rachel Barenblat
2022-02-09 14:57:04
2022-02-09 14:57:36
Join us for a ritual repairing spiritual time